Best 1982 Adventures (7)
By: Joshua Glenn
December 10, 2017
One in a series of 10 posts identifying Josh Glenn's favorite 1982 adventure novels. Happy 35th anniversary!
*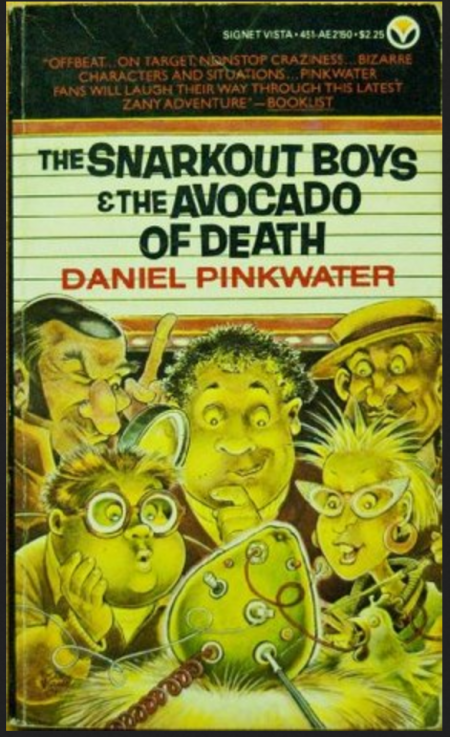 Daniel Pinkwater's YA sci-fi adventure The Snarkout Boys and the Avocado of Death.
Walter Galt and Winston Bongo, bored 15-year-olds, sneak out at night to watch B movies at a seedy downtown theater. There they meet Rat, a fellow 15-year-old moviegoer, who introduces them to her uncle, the avocado-loving Flipping Hades Terwilliger, through whom they end up tangling with a criminal mastermind and a professional wrestler called The Mighty Gorilla. The sci-fi elements of this and other Pinkwater stories (1979's Alan Mendelsohn, the Boy from Mars is my favorite) are fun, but intentionally silly and exaggerated. I enjoy the snarky take on B movies, and everything, but breaking free of the gravitational pull of your suburban home and stultifying school, Pinkwater would have readers understand, exploring an un-gentrified urban neighborhood (the crackpot bookstore, the all-night diner, the junkyard), making mistakes, realizing that it's OK to be eccentric — these are the essentials of a true adventure.
Fun facts: The Snarkout Boys and the Baconburg Horror (1984), is a sequel of sorts.
***
Let me know if I've missed any 1982 adventures that you particularly admire.