Best 1982 Adventures (5)
By: Joshua Glenn
December 8, 2017
One in a series of 10 posts identifying Josh Glenn's favorite 1982 adventure novels. Happy 35th anniversary!
*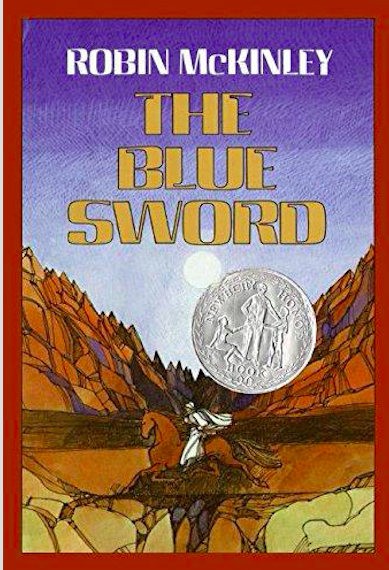 Robin McKinley's YA fantasy adventure The Blue Sword.
A young woman — Angharad Crewe, or "Harry" — is sent to live with her brother in a remote military outpost (of the empire called Homeland), in a region known by the native hill-folk as Damar. Corlath, handsome young king of the hill-folk, warns the Outlanders that the demonic tribes to the North (hello, Game of Thrones) have gathered under the leadership of Thurra, a powerful wizard, and will soon invade; his counsel is ignored. Corlath and Harry share an inherited magical trait, known as "kelar" — and under its compulsion, he abducts Harry and carries back to his kingdom… because he believes that she will be able to help defend Damar against the coming invasion. Harry adopts the customary dress and horse-riding skills of a born Damarian, and proves herself as a warrior (hello again, Game of Thrones); the king gives her a blue sword that belonged to a legendary woman warrior known as the Dragon Slayer. Can Harry put together a fighting force composed of Damarians and Homelanders and save the day?
Fun facts: One of two novels set in the imaginary land of Damar, the other being a prequel, The Hero and the Crown (1984). The Blue Sword won the 1983 Newbery Honor. I'm grateful to HILOBROW friend Anindita Basu Sempere for telling me about this book!
***
Let me know if I've missed any 1982 adventures that you particularly admire.