Best 1962 Adventures (6)
By: Joshua Glenn
September 3, 2017
One in a series of 10 posts identifying Josh Glenn's favorite 1962 adventure novels. Happy 55th anniversary!
*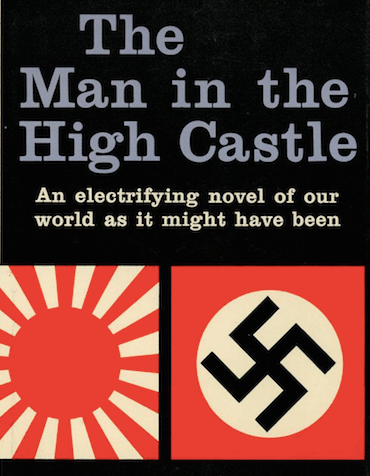 Philip K. Dick's The Man in the High Castle (1962).
Fifteen years after World War II ended in a defeat for the Allies, the United States are divided between Imperial Japan, in the west, and Nazi Germany, in the east. Bob Childan runs an Americana shop in San Francisco, selling antiques — many of them counterfeit — to the Japanese colonists. Frank Frink, a secretly Jewish-American veteran, makes hand-crafted jewelry; his ex-wife, Juliana, lives in the neutral Mountain States buffer zone, where she has begun an affair with an Italian trucker. Many of the book's characters use the I Ching to make decisions; and many are reading The Grasshopper Lies Heavy, an alternate-history sci-fi novel, circulated in samizdat, which imagines a world in which the Allies won World War II. Joseph Goebbels becomes the new German Chancellor, and plots to invade Japan's Home Islands; Childan sells Frink's jewelry, which the Japanese admire for its wabi-sabi; and Juliana visits the author of The Grasshopper Lies Heavy — but is her boyfriend secretly a Nazi assassin? Is The Grasshopper Lies Heavy somehow more true than the reality our characters are experiencing?
Fun fact: Dick used the I Ching to make decisions crucial to the plot of The Man in the High Castle. Adapted for TV in 2015, The Man in the High Castle was, at the time, Amazon's most-watched original series.
***
Let me know if I've missed any 1962 adventures that you particularly admire.