Best 1952 Adventures (7)
By: Joshua Glenn
July 4, 2017
One in a series of 10 posts identifying Josh Glenn's favorite 1952 adventure novels. Happy 65th anniversary!
*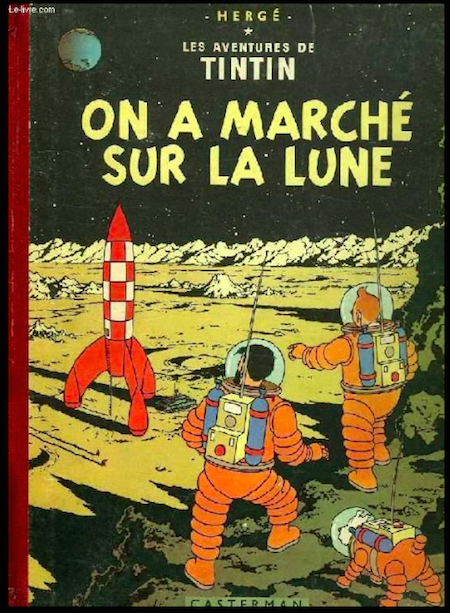 Hergé's Golden Age sci-fi Tintin adventure On a marché sur la Lune (Explorers on the Moon).
The seventeenth Tintin yarn sees our heroes landing on and exploring Earth's moon — seven years before the Soviet Union's Luna 2 mission, and seventeen years before the United States' Apollo 11 was the first manned mission to land on the Moon. Professor Calculus, here, is no longer a brilliant bumbler — but the guiding spirit of the expedition; his assistant, Wolff, is a flawed, Le Carré-esque character. Thompson and Thompson and Haddock nearly ruin the mission, but the rocket eventually lands safely and Tintin becomes the first explorer on the Moon. Although the plot is a bit pedagogical, the landscape is eerie and amazing. Meanwhile, it turns out that a spy for a foreign power is aboard — will he hijack the rocket?
Fun fact: This is the sequel to Destination Moon. It was serialized weekly in Belgium's Tintin magazine in 1952–1953; published in book form in 1954. It has been suggested that Hergé was motivated to do a sci-fi story by the success of his colleague Edgar P. Jacobs's first Blake and Mortimer comic, The Secret of the Swordfish (1950–53).
***
Let me know if I've missed any 1952 adventures that you particularly admire.