Best 1947 Adventures (1)
By: Joshua Glenn
June 4, 2017
One in a series of 10 posts identifying Josh Glenn's favorite 1947 adventure novels. Happy 70th anniversary!
*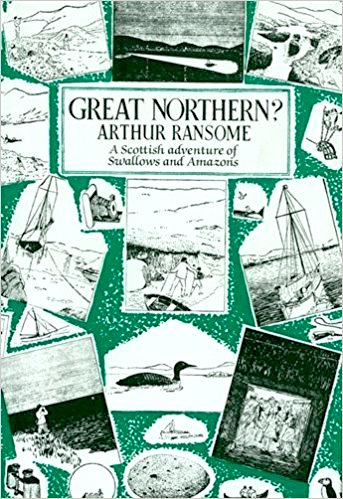 Arthur Ransome's YA eco-adventure Great Northern?
While sailing in the Outer Hebrides with the Swallows (the Walker family), Amazons (the Blackett sisters), his sister Dorothea, and Captain Flint, Dick Callum — the group's naturalist friend — observes what appear to be great northern divers, birds which have never been known to nest in Great Britain, guarding their nest. Dick inadvertently tips off a scoundrel who wishes to kill the birds and put them on display in a museum; however, when the Swallows and Amazons rally to protect Dick's birds, they clash with Scottish locals who believe they've been sent to spoil the deer-shooting. The adventure takes a Buchan-esque turn when the children are locked up by the local laird's gamekeepers. Later, Titty and Dick must recover the divers' eggs and return them to the birds' nest before they grow too cold.
Fun fact: This is the twelfth (and final completed) book in the Swallows and Amazons series. Because the plot involves more excitement and violence than usual, some S&A exegetes classify this one as one of the series' metafictional installments; Ransome stated it was not.
***
Let me know if I've missed any 1947 adventures that you particularly admire.