Best 1937 Adventures (1)
By: Joshua Glenn
May 4, 2017
One in a series of 10 posts identifying Josh Glenn's favorite 1937 adventure novels. Happy 80th anniversary!
*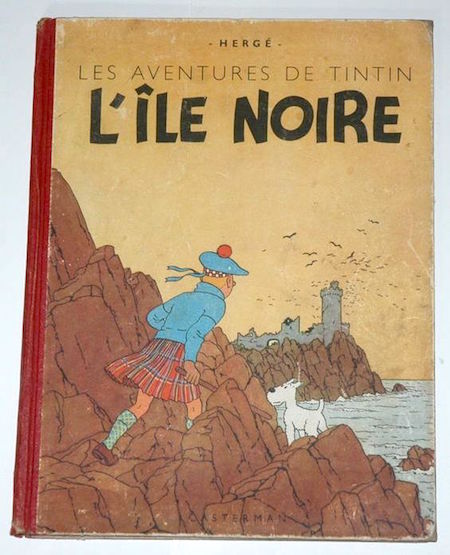 Hergé's Tintin adventure L'Île noire (The Black Island, 1937–1938; as a color album, 1943).
In a crime thriller influenced by adventure writer John Buchan, Tintin pursues a criminal gang from the Belgian countryside (where he's shot) to southeastern England (where he's framed for robbery). Arriving at the estate of Dr. Müller, who operates a private mental institution, Tintin finally discovers what this gang is up to: they're counterfeiters! The action then moves to a Scottish coastal village — perhaps inspired by Castlebay, in the Outer Hebrides — where Tintin and Snowy infiltrate a half-ruined castle, on an island, guarded by a gorilla! Meanwhile, detectives Thomson and Thompson are in top form.
Fun facts: Dr. Müller, who would become a recurring character in the Tintin series, was inspired by Georg Bell, a Scottish forger who had been a vocal supporter of the Nazi regime; and also by the seemingly respectable Professor Jordan, in Hitchcock's 1935 film adaptation of John Buchan's The Thirty-Nine Steps.
***
Let me know if I've missed any 1937 adventures that you particularly admire.