Best 1932 Adventures (7)
By: Joshua Glenn
April 11, 2017
One in a series of 10 posts identifying Josh Glenn's favorite 1932 adventure novels. Happy 85th anniversary!
*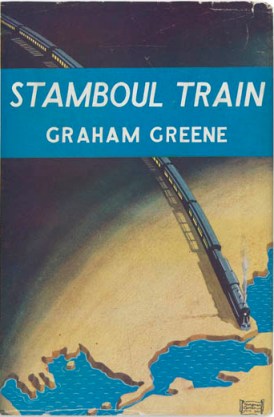 Graham Greene's political thriller Stamboul Train (also known as Orient Express).
Onboard a train from Ostend, Belgium to Istanbul: an accidental collective of lost souls. We've got Dr. Czinner, an exiled revolutionary leader headed back to Belgrade — where the revolution has already failed; Myatt, a Jewish merchant on a business trip (he suspects his firm's agent in Turkey has been cheating them); Coral, an ailing showgirl in search of love (who believes she has found it in Myatt); Mabel, a lesbian journalist, chasing a big story, and her young lover; not to mention a sociopathic cat burglar, a novelist, a priest, an army major, and a luxury-loving police chief. Over the course of the three-day journey, there's sex, murder, robbery, and a trial. Myatt, who faces anti-Semitism both on and off the train, travels back to Subotica to rescue Coral, when she disappears.
Fun fact: Of this novel, Greene said: "In Stamboul Train for the first and last time in my life I deliberately set out to write a book to please, one which with luck might be made into a film. The devil looks after his own and I succeeded in both aims." It was adapted as a movie in 1934.
***
Let me know if I've missed any 1932 adventures that you particularly admire.