Best 1927 Adventures (9)
By: Joshua Glenn
March 13, 2017
One in a series of 10 posts identifying Josh Glenn's favorite 1927 adventure novels. Happy 90th anniversary!
*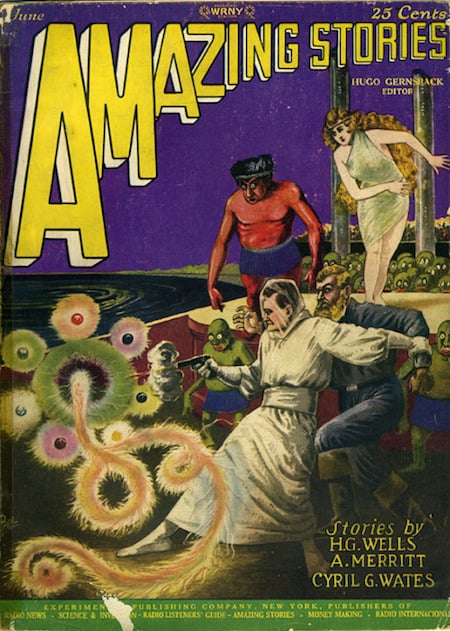 Clare Winger Harris's Radium Age sci-fi novella "The Fate of the Poseidonia" (serialized 1927).
One evening at Austin College, a scholarly named George encounters a skullcap-wearing newcomer, Martell, at an astronomical lecture. The lecture concerns the theory that Mars is a dying planet, because its water supply has dried up; afterwards, Martell demands to know what the lecturer believes the Martians — if there are any Martians — ought to do. Whatever it takes to survive, the lecturer responds. Because Margaret, the woman he loves, has begun spending time with Martell, George sneaks into Martell's apartment, where he discovers an apparatus that allows you to see anyone, anywhere, any time. Not long after this, a passenger ship — the Poseidonia — vanishes, along with a massive quantity of seawater. George uses Martell's apparatus and contacts Margaret… on Mars. She has been kidnapped by Martell, who — it turns out — was a Martian invader!
Fun fact: Harris was the first female author to publish in science fiction pulps under her own name, rather than a male pseudonym.
***
Let me know if I've missed any 1927 adventures that you particularly admire.