Best 1907 Adventures (10)
By: Joshua Glenn
February 24, 2017
One in a series of 10 posts identifying Josh Glenn's favorite 1907 adventure novels. Happy 110th anniversary!
*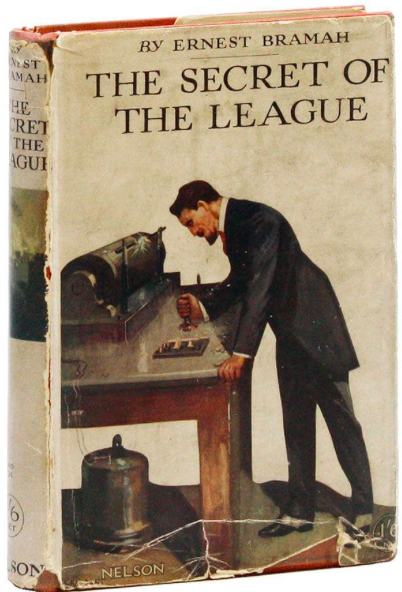 Ernest Bramah's Radium Age sci-fi adventure The Secret of the League (1907; original title: What Might Have Been).
In this dystopian political thriller, written at a time when the Labour Party first emerged as a serious force in British politics, and when England was roiled by labor disputes and strikes, a democratically elected British Labour Party Government — which has improved working conditions, taxed the wealthy, and reduced military spending — is overthrown through the machinations of the League, a secretive upper-class cabal. The League has hoarded fuel oil; and it engineers a consumer strike against the coal industry — the sooty heart of the Labour Party. After a civil war, the League seizes power, dismantles trade unions, and institutes a "strong" non-parliamentary regime… all of which readers are supposed to applaud!
Fun fact: Bramah was a popular author who created the characters Kai Lung and blind detective Max Carrados. Though he called Bramah a decent and kindly (if misguided) man, George Orwell's 1940 essay, "Predictions of Fascism", credits The Secret of the League with having predicted the rise of fascism.
***
Let me know if I've missed any 1907 adventures that you particularly admire.