Best 1907 Adventures (7)
By: Joshua Glenn
February 21, 2017
One in a series of 10 posts identifying Josh Glenn's favorite 1907 adventure novels. Happy 110th anniversary!
*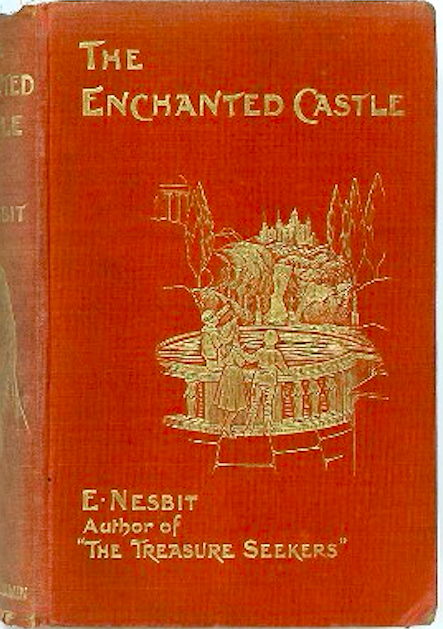 Edith Nesbit's fantasy adventure The Enchanted Castle.
Gerald, Kathleen and James (Jerry, Cathy, and Jimmy) are enjoying their summer holiday near the fictional village of Liddlesby when they visit a mysterious castle. A beautiful princess is asleep in the garden, at the center of a maze — or is she just Mabel, the housekeeper's niece? Mabel shows the siblings a secret room filled with what appears to be treasure; there, they discover a magical ring. At first they think it's an invisibility ring; then, to their surprise, they discover that the ring can do anything at all — it's up to the wearer. (Is this where Tolkien got the idea, by the way?) They put the ring through its paces — for example, by helping a French schoolteacher find her long-lost love, catching a burglar, and bringing a brontosaurus statue to life. As with all Nesbit stories, the moral is: Be careful what you wish for. Unsentimental, humorous, idyllic, parent-free — this is fun Edwardian stuff.
Fun facts: Adapted into a TV-miniseries by the BBC in 1979. The Enchanted Castle appeared in the midst of an outpouring of terrific Nesbit stories — including The Railway Children (1906), the Psammead series adventure The Story of the Amulet (1906), and the House of Arden series adventure The House of Arden (1908).
***
Let me know if I've missed any 1907 adventures that you particularly admire.