Best 1912 Adventures (1)
By: Joshua Glenn
January 22, 2017
One in a series of 10 posts identifying Josh Glenn's favorite 1912 adventure novels. Happy 105th anniversary!
*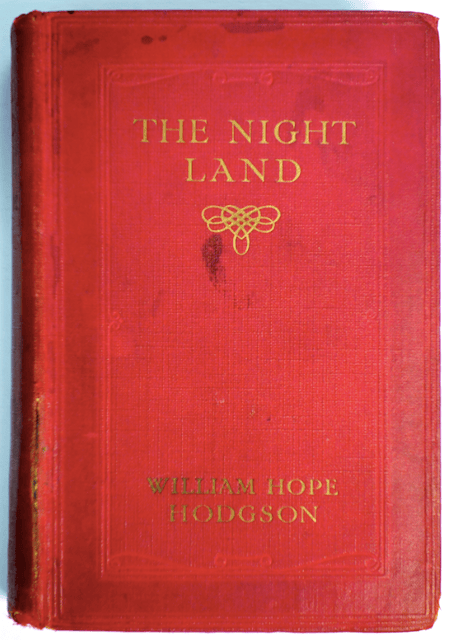 William Hope Hodgson's The Night Land (1912).
In the far future, what remains of the human population dwells deep below the Earth's frozen surface in a pyramidal fortress-city that for centuries has been surrounded by giants, "ab-humans," enormous slugs and spiders, and malevolent Watching Things from an alien dimension. The unnamed narrator, along with apparently every other surviving human, lives trapped in the Last Redoubt, a eight-mile-high metal pyramid-city constructed by their ancestors using now-forgotten technologies. The pyramid is protected from the Slayers, who surround and observe it constantly, by mysterious Powers of Goodness, and also by a massive force-field powered by the "Earth Current" — a Tesla-esque force drawn from the planet itself. When the narrator receives a telepathic distress signal from a young woman whom (in a previous incarnation) he'd once loved, he sallies forth on an ill-advised rescue mission — into the uncharted and unfathomable Night Land.
Fun fact: "One of the most potent pieces of macabre imagination ever written." — H.P. Lovecraft, "Supernatural Horror in Literature" (1927). Reissued by HiLoBooks, with an Introduction by Erik Davis.
***
Let me know if I've missed any 1912 adventures that you particularly admire.