Best 1942 Adventures (4)
By: Joshua Glenn
January 8, 2017
One in a series of 10 posts identifying Josh Glenn's favorite 1942 adventure novels. Happy 75th anniversary!
*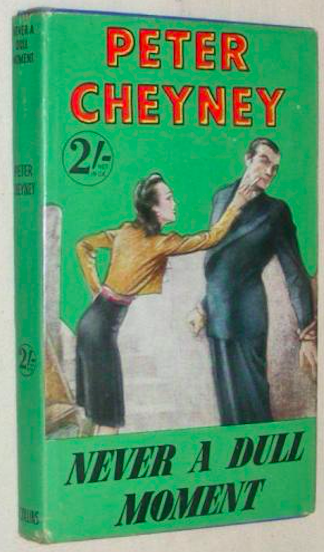 Peter Cheyney's Lemmy Caution adventure Never a Dull Moment.
Cheyney was a British pulp writer whose tongue-in-cheek imitations of American crime fiction were primarily popular in France; it's almost metafiction — there's a curious pleasure to be gained from reading this sort of thing. ("Some wise guy — Confucius or somebody — said there was nothin' like the truth, which is a thing that I believe in — sometimes.") In this, the eighth Lemmy Caution novel, Caution — a brutal FBI agent  is investigating the kidnapping of Julia Wayles, an American who's being held in England by American mobsters. But was Wayles really kidnapped? Are the mobsters really mobsters? Nothing is as it seems. Is this a crime adventure or an espionage adventure? One thing is for certain: there are dangerous dames and two-bit punks, and Caution knows how to deal with them.
Fun fact: Starting in 1953, the Lemmy Caution adventures were adapted into over a dozen European films, most of them French — and all of them starring the craggy Eddie Constantine as the titular tough guy.
***
Let me know if I've missed any 1942 adventures that you particularly admire.