Best 1942 Adventures (1)
By: Joshua Glenn
January 5, 2017
One in a series of 10 posts identifying Josh Glenn's favorite 1942 adventure novels. Happy 75th anniversary!
*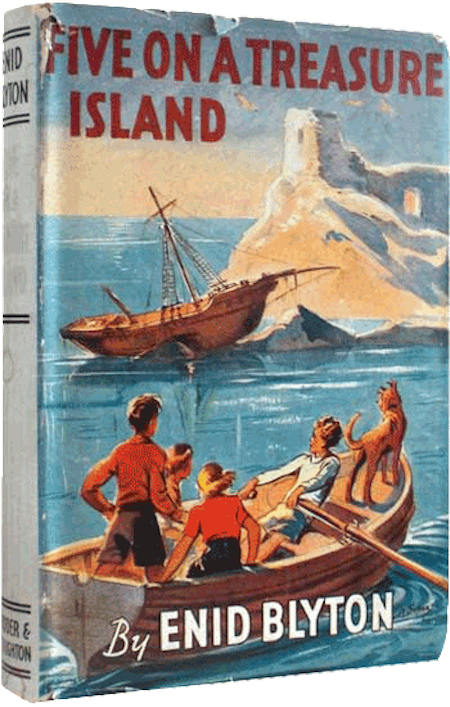 Enid Blyton's treasure-hunt adventure Five on a Treasure Island.
Twelve-year-old Julian, 11-year-old Dick and their sister, 10-year-old Anne, are sent to Kirrin Bay, in rural southern England, to spend the summer with their 12-year-old gender-nonconforming cousin Georgina (George). Aunt Fanny and Uncle Quentin allow the four children, not to mention George's dog, to roam freely — which is why readers find these books enchanting, even now. Though George is surly at first, the cousins soon become friendly. The five explore Kirrin Island, which belongs to Aunt Fanny but has been promised to George when she gets older; there's a ruined castle on it, and a shipwreck… which is flung up on the beach by a fierce storm. The kids find a treasure map, which Uncle Quentin sells to a sharp character — after which there's a race to discover secret passages, the castle dungeon, and a chest of gold!
Fun fact: The first book (of 21) in Blyton's popular Famous Five series. Sequels include Five Go Adventuring Again (1943), Five Run Away Together (1944), and Five Go to Smuggler's Top (1945). John Lennon's "The Famous Five through Woenow Abbey," an absurdist story appearing in In His Own Write (1964), was one of the earliest of many Famous Five parodies.
***
Let me know if I've missed any 1942 adventures that you particularly admire.