Best 1981 Adventures (9)
By: Joshua Glenn
December 9, 2016
One in a series of 10 posts identifying Josh Glenn's favorite 1981 adventure novels. Happy 35th anniversary!
*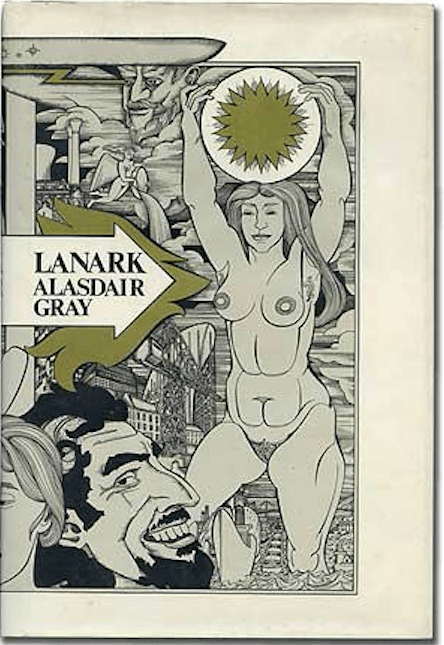 Alasdair Gray's meta-fictional adventure Lanark.
A four-part epic, told out of order, combining realistic and surrealistic depictions of Unthank, a Glasgow-like city. A young man with amnesia wakes up on a train to Unthank, a city whose residents develop diseases as external manifestations of emotional repression; he names himself Lanark. Having developed a disease of his own, Lanark winds up in a medical institute where he'll either be cured… or used for power and food. Some generations earlier, a young man named Duncan Thaw — whom the author describes as a version of himself — grows up in prewar Glasgow, where he eventually attends art school — but struggles with emotional issues of his own. The consequences of an inability to form healthy relationships is the theme that combines the two parts of the novel. Meanwhile, Lanark tries but fails to prevent Unthank's disintegration… and finally meets his author.
Fun fact: In his list of the 99 greatest novels written in English since 1945, Anthony Burgess called Lanark the "shattering work of fiction in the modern idiom" that Scotland needed; and he proclaimed Gray "the best Scottish novelist since Walter Scott."
***
Let me know if I've missed any 1981 adventures that you particularly admire.