Best 1911 Adventures (5)
By: Joshua Glenn
November 24, 2016
One in a series of 10 posts identifying Josh Glenn's favorite 1911 adventure novels. Happy 105th anniversary!
*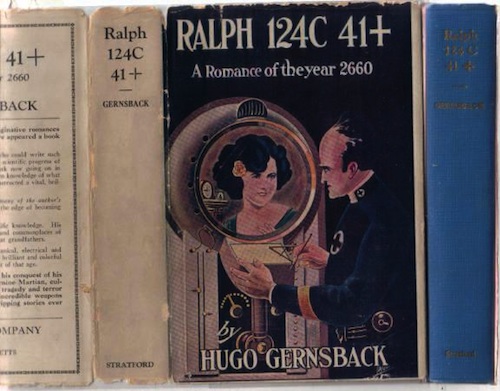 Hugo Gernsback's Ralph 124C 41+: A Romance of the Year 2660 (1911–1912).
Ralph One-to-foresee-for-an-other (get it?) is a great American scientist, and a superior type; the honorific "plus" at the end of his name signifies it. But what kind of big-headed superman story is this, anyway? The polar fleece-wearing citizens of solar-powered, geothermally heated New York don't fear or resent Ralph; in fact, they've erected a glass-and-steelonium luxury tower for him in Union Square. Ralph isn't an evil genius; he's something of a bore, and so is his techno-utopian society. Except maybe when his girlfriend is kidnapped by a Martian! Despite the wooden prose and juvenile adventure, this Edisonade is worth a read because of all the technology it accurately predicts: e.g., fluorescent lights, microfilm, radar, television. Also, I suspect that we're on the cusp of seeing the Hypnobioscope, which allows you to avoid subscribing to newspapers in your sleep, hit the Apple Store.
Fun fact: Reissued by Bison Frontiers of Imagination. In 1926, Gernsback launched the first sci-fi pulp, Amazing Stories; later, he'd also publish Wonder Stories. Science fiction's Hugo Award is named after him.
***
Let me know if I've missed any 1976 adventures that you particularly admire.