Best 1911 Adventures (2)
By: Joshua Glenn
November 21, 2016
One in a series of 10 posts identifying Josh Glenn's favorite 1911 adventure novels. Happy 105th anniversary!
*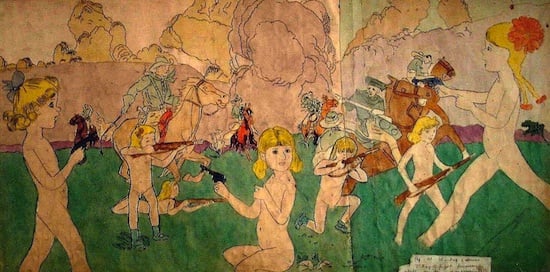 Henry Darger's In the Realms of the Unreal.
Darger's 15,000-page novel is bound in fifteen immense volumes, three of which consist of several hundred watercolor paintings on paper derived from magazines and coloring books. Most of the book, titled The Story of the Vivian Girls, in What is Known as the Realms of the Unreal, of the Glandeco-Angelinian War Storm Caused by the Child Slave Rebellion, follows the graphically violent, epic adventures of seven princesses who assist a daring child-led rebellion against the evil regime of child slavery imposed by the Glandelinians. The setting is a war-torn planet around which the Earth orbits. The first nine volumes were most likely written between 1911 and 1928; the remaining volumes were completed by 1938 or 1939.
Fun fact: Henry Darger was a reclusive man who worked as a hospital custodian in Chicago; Darger's landlords came across his work shortly before his death, in 1973, and preserved it. Darger is today one of the most famous figures in the history of "outsider art."
***
Let me know if I've missed any 1976 adventures that you particularly admire.