Best 1976 Adventures (7)
By: Joshua Glenn
November 11, 2016
One in a series of 10 posts identifying Josh Glenn's favorite 1976 adventure novels. Happy 40th anniversary!
*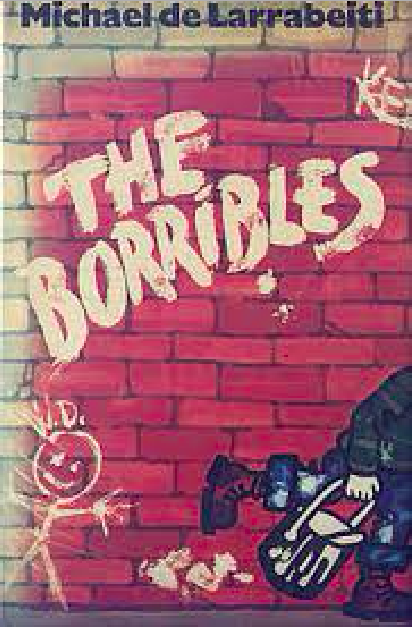 Michael de Larrabeiti's sardonic YA adventure The Borribles.
A tough-minded, violent, bleakly humorous, metafictional yarn about members of a tribe of runaway adolescents — a gritty urban version of Peter Pan's Lost Boys, a fantastical, punk version of Oliver Twist — who are sent on an assassination mission deep into the heart of their enemies' kingdom. The Borribles are London kids who've dropped through the cracks, grown pointed ears, and live by their wits — and their weapons. When the Borribles of Battersea discover a Rumble (one of the large, rat-shaped hominids who compete with the Borribles for resources) tunneling in their territory, an elite group of Borrible fighters from across London — this is a crackerjack adventure — head for Rumbledom in order to eliminate the Rumble High Command's eight members. It's an epic journey, even before they reach Rumble HQ — with plenty of treachery and bravery, cunning and derring-do. Their mission isn't a particularly high-minded one; and the group doesn't see eye to eye. But they perservere!
Fun fact: The subsequent volumes in the Borribles trilogy are The Borribles Go For Broke (1981), and The Borribles: Across the Dark Metropolis (1986). The members of the Rumbles' High Command are satires of Elisabeth Beresford's lovable, iconic Wombles.
***
Let me know if I've missed any 1976 adventures that you particularly admire.