Best 1976 Adventures (4)
By: Joshua Glenn
November 8, 2016
One in a series of 10 posts identifying Josh Glenn's favorite 1976 adventure novels. Happy 40th anniversary!
*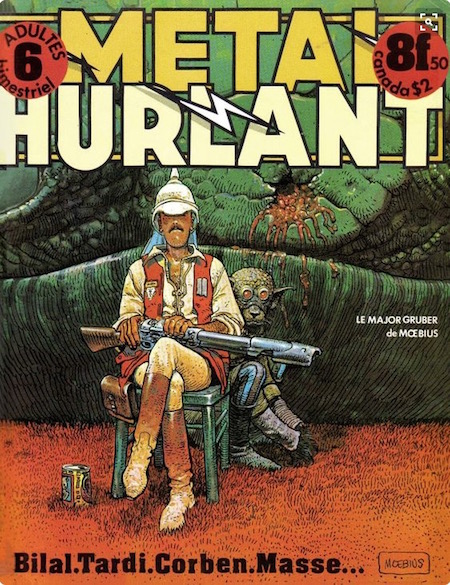 Moebius's sci-fi/western/frontier/apophenic graphic novel adventure Le Garage Hermétique (The Airtight Garage, 1976–79).
Le Garage Hermétique is one of the two great capricious comic strips of the Seventies (1974–1983); Gary Panter's Dal Tokyo, which first appeared in 1983, is the other. Over a four year period, Moebius cranked out two to four pages per month; each month, he challenged himself to solve continuity problems that he'd playfully introduced previously, while also creating new problems. The main plot, to the extent that there is one, concerns the efforts of Major Grubert to prevent outside entities from invading the Garage Hermétique — an asteroid housing a pocket universe, which features, e.g., desert and forest biomes, a city, and a world made of machines. One of these invaders is Jerry Cornelius, a trickster figure whom Moebius lifted from Michael Moorcock's sci-fi novels; Grubert and Cornelius join forces, eventually, to face a threat to the Airtight Garage. Each installment of the strip, many of which focus on Grubert and Cornelius's hapless allies, is its own self-contained epic; they don't necessarily add up to anything larger.
Fun fact: Le Garage Hermétique first appeared, from 1976–1979, in issues 6 through 41 of the Franco-Belgian comics magazine Métal Hurlant; Americans first read it in the magazine Heavy Metal, starting in 1977.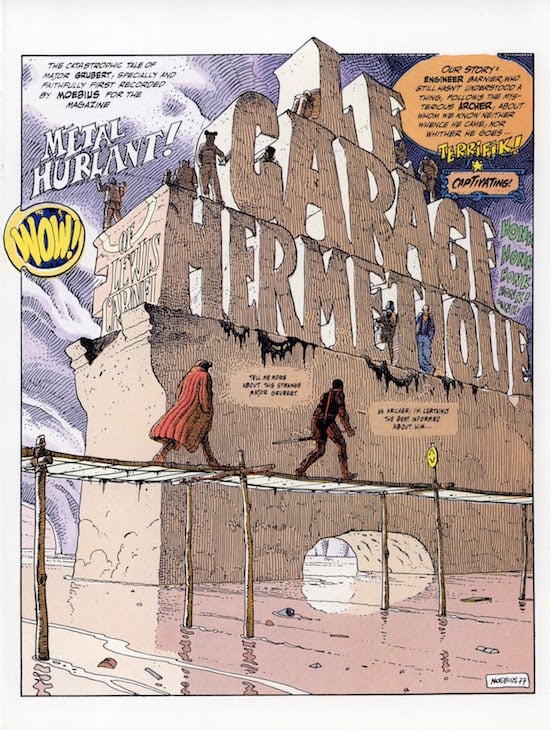 ***
Let me know if I've missed any 1976 adventures that you particularly admire.