Best 1976 Adventures (1)
By: Joshua Glenn
November 5, 2016
One in a series of 10 posts identifying Josh Glenn's favorite 1976 adventure novels. Happy 40th anniversary!
*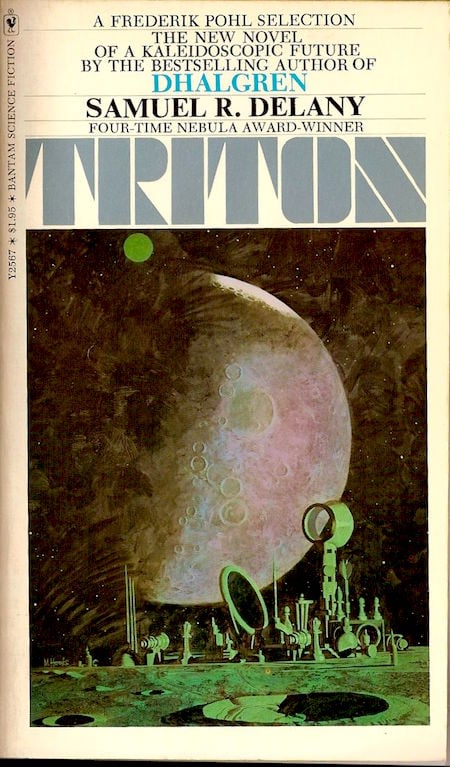 Samuel R. Delany's Foucauldian science fiction adventure Trouble on Triton: An Ambiguous Heterotopia.
Part novel, part treatise, Triton brilliantly (if sometimes maddeningly) deploys post-structuralist theory in order to both illuminate and subvert the story of an unpleasant protagonist's struggle to acculturate himself to life in a utopian colony on Triton, Neptune's largest moon. Bron Helstrom, who had previously worked on Mars as a male prostitute, should be happy on Triton — where no one goes hungry, and where one can change one's physical appearance, gender, sexual orientation, and even specific patterns of likes and dislikes. Helstrom's problem is that he is an unregenerate individual, an asshole even, in a culture that deprioritizes the notion of the individual. (Shades of Stanislaw Lem's Return from the Stars.) But Triton is less about Bron, in the end, than it is a critique of utopia, an exploration of the Foucauldian notion of heterotopia, and a semiotic intervention into science fiction's unexamined ideologies. Should we feel sympathy for Bron, and reject Triton's social order; or the other way around? Yes and no. PS: Almost forgot to mention that there is a destructive interplanetary war, between Triton and Earth, too.
Fun fact: Originally published under the title Triton, the novel's themes and formal devices are also explored in Delany's 1977 essay collection, The Jewel-Hinged Jaw.
***
Let me know if I've missed any 1976 adventures that you particularly admire.