Best Adventures of 1951 (5)
By: Joshua Glenn
July 9, 2016
One in a series of 10 posts identifying Josh Glenn's favorite 1951 adventure novels. Happy 65th anniversary!
*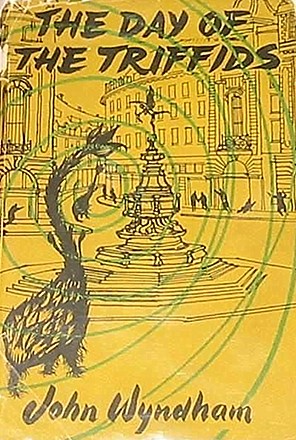 John Wyndham's post-apocalyptic science fiction adventure The Day of the Triffids.
When a bright "meteor shower" (or did orbiting weapons accidentally detonate?) causes a worldwide epidemic of blindness, one of the handful of sighted survivors in England is Bill Masen, a biologist studying triffids – tall, venomous carnivorous plants capable of locomotion and communication. Navigating a London gone haywire, Masen rescues Josella Playton, a wealthy novelist, from a blind man who has forced her to serve as his guide… and the two of them plan to join a colony of the sighted outside London. Instead, they are kidnapped by a group that chains sighted men and women to groups of the blind, and forces them to scavenge for food and supplies. Masen eventually escapes and helps establish a self-sufficient colony in Sussex… which, unfortunately, is menaced not only by hordes of triffids but by a militarized rival colony!
Fun fact: Brian Aldiss singled out The Day of the Triffids as an example of what he called a "cosy catastrophe" — that is, a subgenre of apocalyptic fiction in which a handful of survivors enjoy a relatively comfortable existence.
***
Let me know if I've missed any 1951 adventures that you particularly admire.