Best Adventures of 1946 (6)
By: Joshua Glenn
June 10, 2016
One in a series of 10 posts identifying Josh Glenn's favorite 1946 adventure novels. Happy 70th anniversary!
*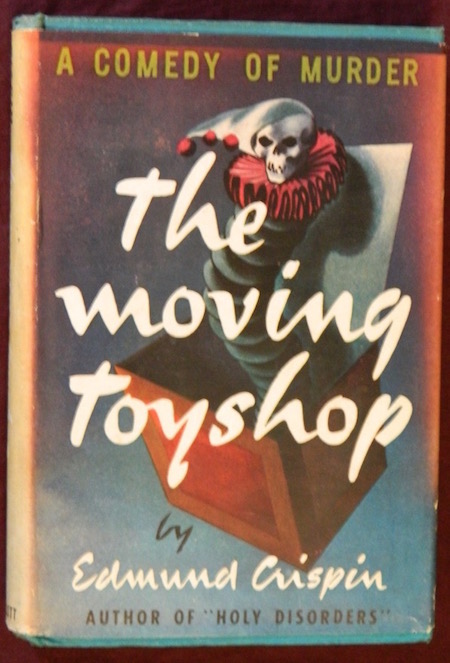 Edmund Crispin's Gervase Fen crime adventure The Moving Toyshop.
Poet Richard Cadogan, in Oxford on holiday, finds the body of an elderly woman in a toyshop, late one night. He is hit on the head, and when he awakens… not only has the old woman vanished, but so has the toyshop. Cadogan seeks the help of an Oxford don and amateur sleuth who is his frenemy, Gervase Fen (Fen's blurb for Cadogan's first book of poetry: "This is a book everyone can afford to be without"). This is the third novel featuring Gervase Fen; it's a sardonic inversion of the genre — because Fen (rather like Leslie Charteris's Saint) frequently breaks the fourth wall by commenting on the novel's action from the perspective of a literary critic. There's a pretty girl, a sinister lawyer, and three excellent chases. Most entertaining are the witty conversations between Fen and Cadogan, one of which takes place while they' re locked in a closet, in which they comment acidly on English literature from the past to the present day.
Fun fact: The book's title comes from Pope's "The Rape of the Lock": "With varying vanities, from every part,/They shift the moving toyshop of their heart." Hitchcock appears to have lifted the climactic merry-go-round sequence, for his movie Strangers on a Train, from The Moving Toyshop.
***
Let me know if I've missed any 1946 adventures that you particularly admire.