Best 1926 Adventures (5)
By: Joshua Glenn
March 9, 2016
One in a series of 10 posts identifying Josh Glenn's favorite 1926 adventure novels. Happy 90th anniversary!
*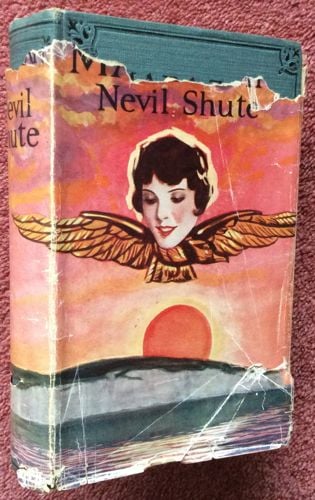 Nevil Shute's crime/hunted-man adventure Marazan.
When Philip Stenning, a commercial pilot and would-be adventurer, crashes his plane in a field while flying solo, a man in prison garb — Dennis Compton — emerges from the woods, saving his life. Stenning repays the favor by helping Compton avoid recapture. Compton's half-brother, it turns out, is smuggling drugs into England; it was he who framed Compton for a crime he didn't commit. Stenning offers to help Compton break up the drug ring… and in the process, he begins to fall in love with Compton's cousin, Joan. For fans of aeronautical and nautical yarns: In addition to some exciting flying, there are some dramatic sailing scenes, too.
Fun fact: The first published novel by the author of several of my all-time favorite adventures, including An Old Captivity (1940), Pied Piper (1942), A Town Like Alice (1950), Round the Bend (1951), and On the Beach (1957). PS: Check out that far-out cover illustration!
***
Let me know if I've missed any 1926 adventures that you particularly admire.