Best 1941 Adventures (2)
By: Joshua Glenn
January 22, 2016
One in a series of 10 posts surfacing Josh Glenn's favorite 1941 adventure novels. Happy 75th anniversary!
*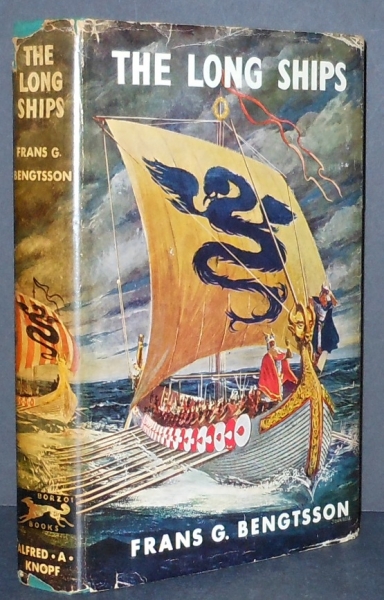 Frans G. Bengtsson's atavistic adventure Röde Orm (Red Orm; commonly known as The Long Ships).
A record of three voyages undertaken by the resourceful, antiheroic "Red Orm" Tosteson in the late 10th century. We first meet Orm as a youth, when he is abducted by Vikings. He and his crew-mates are captured by Andalusian Muslims, and serve as galley slaves in the Mediterranean. Returning finally to Denmark, Orm falls in love with King Harald's daughter, Ylva. Later, after the reconquest of that part of England in which the laws of the Danes held sway, Orm marries Ylva and moves to Sweden. Having converted to Christianity (though he never entirely loses his pragmatic Norse paganism), in addition to raising a family Orm converts heathens. Some years later, he heads into what is now Russia in search of buried treasure. Told in the style of a Norse saga; that is to say, it's violent, unsentimental, surprisingly funny.
Fun facts: Published in two parts in 1941 and 1945; reissued not long ago by the New York Review of Books. Loosely adapted, by Jack Cardiff in 1964, as a Viking movie starring Richard Widmark. I am grateful to James Parker (who will retell Finland's "Kalevala" epic at HILOBROW this year!), for having turned me on to this amazing book.
***
Let me know if I've missed any 1941 adventures that you particularly admire.