Unbored Games event!
By: HILOBROW
October 30, 2014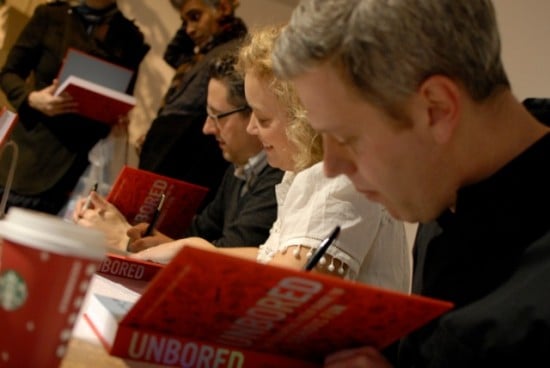 On Saturday, November 1 (11 am) at Odyssey Books in South Hadley, Mass., UNBORED Games: Serious Fun for Everyone co-author Joshua Glenn (HILOBROW's editor) will demonstrate games from the book; also presenting games will be UNBORED Games contributor Catherine Newman.
Gleaning insights from today's most insightful game designers and gamification theorists, UNBORED Games includes rules to nearly 75 indoor, outdoor, online and offline games — as well as essays by gaming experts, Q&As with game designers, DIY game-building projects, and secret history comics. Like their 2012 book UNBORED, Joshua Glenn and Elizabeth Foy Larsen co-authored and co-edited UNBORED Games; and it was designed and art-directed by Tony Leone, and illustrated by Mister Reusch and Heather Kasunick.
Catherine Newman is the author of the book Waiting for Birdy and the excellent blog Ben & Birdy. She writes for FamilyFun and other magazines, and edits the nonprofit kids' cooking magazine ChopChop. She lives with Ben, Birdy, Craney Crow (feline), and their dad, in Amherst, Mass.
MORE UNBORED GAMES EVENTS: Wednesday, November 5 (2 pm) at Wellesley Books in Wellesley, Mass., Joshua Glenn and the UNBORED design team: INFO | Sunday, Dec. 7 (2 pm) at Brookline Booksmith in Brookline, Mass., Joshua Glenn and the UNBORED design team.