Josh's Weekend
By: HILOBROW
October 24, 2014
HILOBROW's Joshua Glenn will make the following public appearances this weekend. If you'll be in Boston on Saturday, or Brooklyn on Sunday, please drop by and say hello!

On Saturday, October 25, Josh will moderate the Libraries of the Future panel at the Boston Book Festival. The panel, featuring Jeffrey Schnapp and Matthew Battles of Harvard's metaLAB (pictured below), runs from 2:15PM-3:15PM at in the Carver Ballroom of the Boston Common Hotel (40 Trinity Place). Attendance at BBF events is free of charge.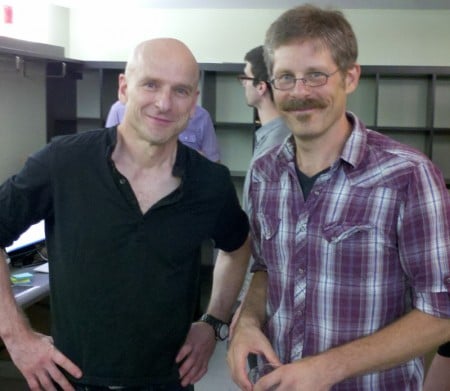 Here's the official word on the panel:
In the future, libraries will thrive—although in a variety of new forms. This is the contention made by Jeffrey Schnapp and Matthew Battles, who combine the study of the library's history with a record of innovation at Harvard's metaLAB, a research group at the forefront of the digital humanities. In The Library Beyond the Book, they offer a provocative and lively exploration of libraries as hybrid places that intermingle analog and digital formats, paper and pixels. Their scenarios for future libraries imagine them as everything from study centers to social change agents and event-driven knowledge centers. Join the conversation about libraries of the future led by Joshua Glenn, author of Taking Things Seriously and co-founder of the blog HiLobrow.
*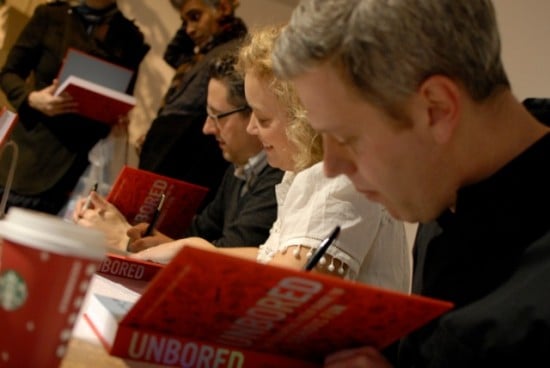 On Sunday, October 26, at The Powerhouse Arena in Brooklyn's DUMBO neighborhood, Josh and co-author Elizabeth Foy Larsen will unveil their new book, UNBORED Games: Serious Fun for Everyone. This is the book's launch event!
The Powerhouse event is free, but RSVP's are encouraged: here.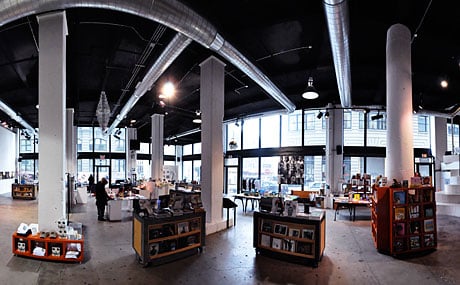 Gleaning insights from today's most insightful game designers and gamification theorists, UNBORED Games includes rules to nearly 75 indoor, outdoor, online and offline games — as well as essays by gaming experts, Q&As with game designers, DIY game-building projects, and secret history comics. Like UNBORED, which won three prestigious design awards, UNBORED Games was designed and art-directed by Tony Leone, and it was illustrated by Mister Reusch and Heather Kasunick.
MORE UNBORED GAMES EVENTS: Saturday, November 1 (11 am) at Odyssey in South Hadley, Mass., Joshua Glenn and contributor Catherine Newman: INFO | Wednesday, November 5 (2 pm) at Wellesley Books in Wellesley, Mass., Joshua Glenn and the UNBORED design team: INFO | Sunday, Dec. 7 (2 pm) at Brookline Booksmith in Brookline, Mass., Joshua Glenn and the UNBORED design team.