Josh Glenn @ AWP 2013
By: Joshua Glenn
March 4, 2013

Note to HiLobrow readers who will be at the 2013 AWP (Association of Writers & Writing Programs) Conference & Bookfair in Boston later this week: I'll be speaking on a panel on Friday the 8th, at 12 pm, at the Hynes Convention Center (Room 203, Level 2).

I'm on the panel "Finding Money, Time and a Place to Create: Upbeat News in a Down Economy." Author and memoirist Mira Bartók organized the panel, and the other panelists are the Massachusetts Cultural Council's Dan Blask, curator and TransCultural Exchange director Mary Sherman, and author Jung H. Yun.
Here's the pitch: "Every writer — from emerging and mid-career to established — needs three basic things: money, time, and a place to work. In this lively, informative session, panelists discuss what kinds of grants, fellowships, and international residencies exist, how to find them, and practical tips on the application process. We also offer innovative ways to fund non-mainstream writing projects and interdisciplinary collaborations. Plenty of time allotted for questions afterwards."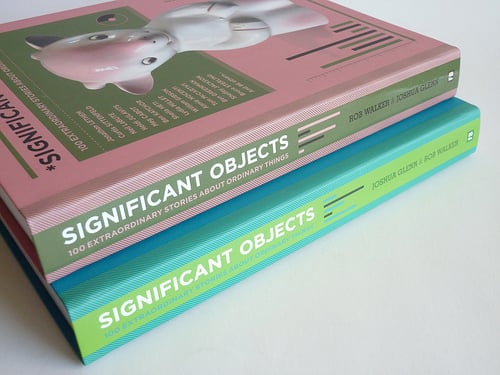 I'll talk about hijacking eBay as a literary magazine publishing platform for SIGNIFICANT OBJECTS, plus using Kickstarter to fund two serialized novels at HILOBROW: James Parker's Cocky the Fox and Karinne Keithley Syers's Linda (KKS ran her own Kickstarter campaign, but I intend to take partial credit for it at AWP). I might also talk about the benefits of publishing HiLoBooks's RADIUM AGE SCIENCE FICTION SERIES as an imprint of Richard Nash's CURSOR project… or just the benefits of knowing Richard Nash, who knows everything about publishing books!
Our panel is competing with sexy how-to panels on "Applying for a National Endowment for the Arts Creative Writing Fellowship" and "How to Build a Successful Kickstarter Campaign for Your Publishing Project." I'm worried about filling the room. So don't leave me hanging! Our panel will be great! Mary will talk about international residencies; Jung about writing a winning fellowship/grant application (and being a grant reader); Dan about what makes a good grant application from his perspective as Program Coordinator for Artists at the Massachusetts Cultural Council); and Mira about Mira's List, where people in the arts can find up-to-date information, resources and deadlines for grants, fellowships and international residencies.
Come to our panel! Bring a friend!
PS: Before our panel, check out HiLoBooks/HiLobrow friend Richard Nash's panel: Books in the Age of Reader-centric Publishing. Richard Nash, Buzz Poole, Lisa Pearson, Matvei Yankelevich, Elizabeth Koch: Friday, March 8, 10:30-11:45; Room 201, Level 2.