KIPLING'S A.B.C. YARNS
By: HILOBROW
June 12, 2012
NOW AVAILABLE!
As of today HiLoBooks' paperback edition of Rudyard Kipling's ambiguously utopian science fiction novella With the Night Mail (as well as its sequel, the story "As Easy as A.B.C."), is available for sale. $12.95 — cheap!
ORDER FROM AMAZON! ($11.01 plus shipping; available for Prime)
If you're extra-eager to help out the cause, send $14.00 per copy via PayPal to: jglenn@hilobrow.com. S&H included.
Want to SUBSCRIBE to the ENTIRE SERIES of six titles? Send $50.00 via PayPal to: jglenn@hilobrow.com. S&H included.
If you're in the West Roxbury area, buy a copy from our friends at PAZZO BOOKS or SEEK BOOKS. Otherwise, here's a list of online and offline bookstores who carry this title.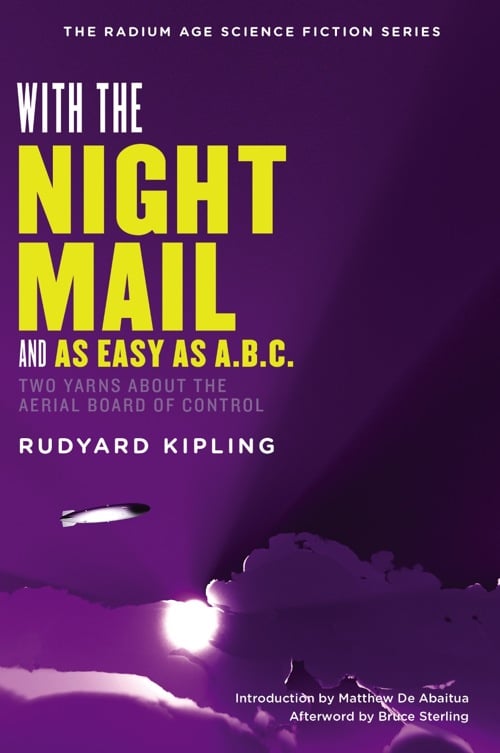 Introduction by Matthew De Abaitua, author of the science fiction novel The Red Men, which was shortlisted for the Arthur C. Clarke Award and is being developed for cinema by War Films and Shynola. Afterword by Bruce Sterling, co-founder of science fiction's cyberpunk movement and blogger at Beyond the Beyond. Cover illustration by Michael Lewy; cover design by Tony Leone.
Supplies are limited! Act now! You'll want to collect every installment in this unique series!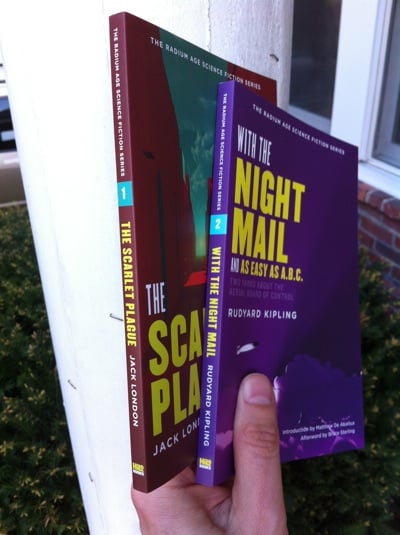 Serialized here at HILOBROW from March through June of this year, Rudyard Kipling's With the Night Mail follows the exploits of an intercontinental mail dirigible battling the perfect storm. Between London and Quebec we learn that a planet-wide Aerial Board of Control (A.B.C.) now enforces a technocratic system of command and control not only in the skies but in world affairs. A follow-up story, "As Easy As A.B.C.," recounts what happens when agitators in Chicago demand the return of democracy.
With the Night Mail is set in 2000, and it first appeared in 1905; 2012 marks the centennial of the first publication of "As Easy As A.B.C."
"It is a glittering essay in the sham-technical; and real imagination, together with a tremendous play of fancy, is shown in the invention of illustrative detail." — Arnold Bennett (1917)
"A most remarkable little story… It is rather a fascist picture which Kipling gives us." — Norbert Weiner, The Human Use of Human Beings (1950)
"An amazing tour-de-force of inspired genius — Kipling, in 1905, is doing things that science fiction as a genre wouldn't achieve until Robert Heinlein arrived in the late 1940s." — Bruce Sterling (2012 blurb for HiLoBooks)
Please help us spread the word — here is the Amazon URL: http://amzn.to/HiLoKipling
For more info on the Radium Age science fiction book series, visit the HiLoBooks homepage.
Hitting the shelves next month: HiLoBooks' paperback edition of Arthur Conan Doyle's catastrophic science fiction novel The Poison Belt, currently being serialized at HILOBROW.