HiLoBooks to publish Hodgson!
By: HILOBROW
May 1, 2012
BREAKING NEWS: In November 2012, HiLoBooks will publish The Night Land, a 1912 work of science fiction by William Hope Hodgson, an English sailor, photographer, bodybuilder, poet, and author of numerous tales of horror and the supernatural (including a series featuring occult detective Thomas Carnacki). This will be the sixth in a series of six Radium Age science fiction novels published in 2012 by HiLoBooks. Please help us spread the word!
PRE-ORDER PAPERBACK NOW
PLUS: A new Introduction by Catherynne M. Valente, Tiptree–, Andre Norton–, and Mythopoeic Award–winning author of The Orphan's Tales, The Girl Who Circumnavigated Fairyland in a Ship of Her Own Making, and other "mythpunk" novels; and a new Afterword by social historian and cultural critic Erik Davis, author of such books as TechGnosis: Myth, Magic, and Mysticism in the Age of Information and Nomad Codes.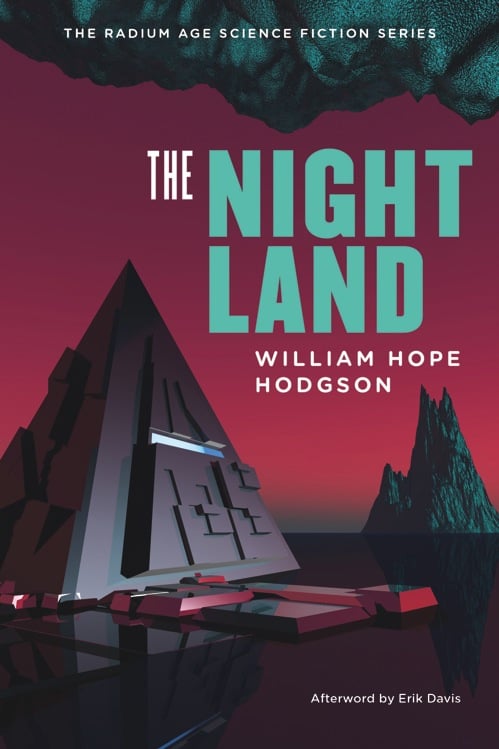 In the far future, an unnamed narrator, who along with what remains of the human race dwells uneasily in an underground fortress-city surrounded by Watching Things, Silent Ones, Hounds, Giants, "Ab-humans," Brutes, and enormous slugs and spiders, follows a telepathic distress signal into the unfathomable darkness.
The Earth's surface is frozen, and what's worse — at some point in the distant past, overreaching scientists breached "the Barrier of Life" that separates our dimension from one populated by "monstrosities and Forces" who have sought humankind's destruction ever since. Armed only with a lightsaber-esque weapon called a Diskos, and fortified only by his sense of Honor, our hero braves every sort of terror en route to rescue a woman he loves but has never met.
Hodgson's tale of autochthonic future horror is written in an archaic style that adds to the story's ever-mounting sense of uncanny anxiety. HiLoBooks' edition of his novel omits two sections which have until now prevented it from reaching a wider audience: the tale's romantic prefatory conceit and its lengthy, relatively uneventful dénouement. Our otherwise unabridged version begins and ends with the most dramatic moments in this epic tale: chapters Two and Eleven.
"For all its flaws and idiosyncracies, The Night Land is utterly unsurpassed, unique, astounding," says science fiction author China Miéville, in his blurb for the 2012 HiLoBooks edition. "A mutant vision like nothing else there has ever been."
"One of the most potent pieces of macabre imagination ever written." — H.P. Lovecraft, "Supernatural Horror in Literature"
"[Good science fiction stories] give, like certain rare dreams, sensations we never had before, and enlarge our conception of the range of possible experience… W.H. Hodgson's The Night Land [makes the grade] in eminence from the unforgettable sombre splendour of the images it presents…" — C.S. Lewis, "On Science Fiction"
"The Night Land is a unique achievement. It is not a pleasant book to read, yet one cannot put it down; like the darkness of the Night Land, it envelops the reader." — Frank N. Magill, Survey of Modern Fantasy Literature
"In all literature, there are few works so sheerly remarkable, so purely creative, as The Night Land… Only a great poet could have conceived and written this story; and it is perhaps not illegitimate to wonder how much of actual prophecy may have been mingled with the poesy… It is to be hoped that work of such unusual power will eventually win the attention and fame to which it is entitled." — Clark Ashton Smith, "In Appreciation of William Hope Hodgson"
"The ideas are brilliant, and some of the concepts are staggering…" — E.F. Bleiler, Science-Fiction: The Early Years
HiLobrow.com will serialize The Night Land from June through October of this year; the paperback edition will appear in November.