Josh Glenn + Hey Dullblog
By: HILOBROW
April 23, 2012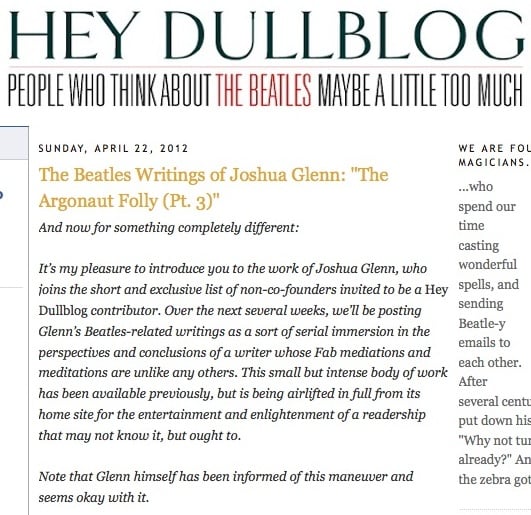 Breaking Beatlesphile news!
The website Hey Dullblog, an assemblage of talented, insightful, funny "People Who Think About The Beatles Maybe A Little Too Much" — including Devin McKinney, author of Magic Circles: The Beatles in Dream and History; Ed Park, author of the anti-wage slavery novel Personal Days; Michael Gerber, author of the satirical novel Life After Death (For Beginners); and a contributor named Nancy about whom no other details are readily available — has invited HILOBROW's Joshua Glenn to be a floating contributor.
To get the ball rolling, McKinney (who recently began contributing to HiLobrow) has curated a series of Hey Dullblog posts which will reprint certain of Glenn's apophenic Beatles investigations, which originally appeared everywhere from the journals n+1 and Cabinet to HiLobrow. The first installment in this series appeared today.
McKinney offers the following warning to Hey Dullblog readers:
Those who prefer their Beatles in a box will be neither entertained nor enlightened by Glenn's studies, which, while eminently companionable in voice and attitude, are defiantly literate, associative, and out-of-box in approach. Glenn treats the Beatles as a congeries of contexts and consequences, an eruption of spontaneities which was nonetheless contiguous with other transformations occurring in the latter half of the last century (if not before) (and certainly after). Those willing to consider possibilities beyond the most obvious will be set to many new Fab wonderings.
Let the reader beware…