Studio 360 Story Contest
By: HILOBROW
March 27, 2012

Kurt Andersen (novelist, journalist, co-founder of Spy and Inside), digs Rob Walker and HiLobrow editor Joshua Glenn's Significant Objects project. Not only did Andersen write a story for the project, but between now and April 8, his Peabody Award-winning public radio show "Studio 360 with Kurt Andersen" is running a Significant Objects-sponsored story contest!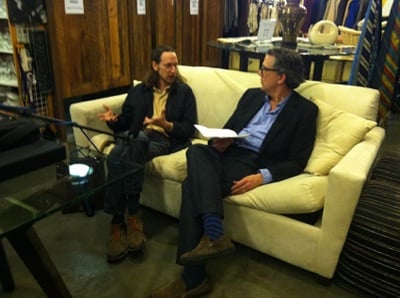 Walker and Andersen recently visited a thrift store in New York and selected three objects: a Marloboro Thermos, a Doll, and a Wooden Thing. "Studio 360" challenges you to create a fictional backstory of around 500 words for one or more of these objects. Rob Walker will judge the entries, with one winner for each object.
The prize, of course, is the object. Plus, glory.
PS: Earlier this week, Walker and Glenn — and their Fantagraphics collaborators, Eric Reynolds and Jacob Covey — sent Significant Objects: 100 Extraordinary Stories About Ordinary Things to the printer. The book will hit the streets this spring; you can pre-order it here.
Here are the contest's rules and regulations. Entries must be made through the Significant Object Story Contest online form before the deadline: 11:59pm Eastern Standard Time on Sunday, April 8, 2012. Spread the URL of the contest around! It's http://wny.cc/SigObj