Program or Be Programmed
By: HILOBROW
December 20, 2011
Twenty-second in a series of posts suggesting gifts for the hilobrows in your life this holiday season.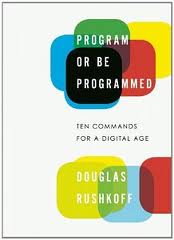 HiLobrow friend and contributor Douglas Rushkoff published an excellent little book in 2010. Program or Be Programmed: Ten Commands for a Digital Age insists that programming is the new literacy of the digital age — and it's a template through which to see beyond social conventions and power structures that have vexed us for centuries.
We suggested this as a gift in 2010, and now that it's out in a snazzy new 2011 edition from Soft Skull, we're suggesting it again.
The book is also available as an audio CD, read by Rushkoff.