Wage Slave's Glossary
By: HILOBROW
December 16, 2011
Eighth in a series of posts suggesting gifts for the hilobrows in your life this holiday season.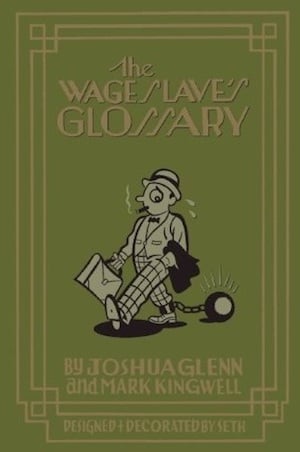 In 2011, Biblioasis published The Wage Slave's Glossary, by HiLobrow editor-in-chief Joshua Glenn and HiLobrow friend and contributor Mark Kingwell.
The WSG criticizes and analyzes what the Lowell Mill Girls were the first to name wage slavery. Glenn's glossary of over 200 terms interrogates not only office jargon but labor-related slang and workplace terminology used to naturalize wage slavery from the dawn of industrial capitalism to the present day. Kingwell's philosophical Introduction criticizes the "work idea" itself, and its corollaries — including bureaucracy and bullshit.
The WSG, a sequel to Glenn and Kingwell's equally subversive Idler's Glossary (2008), is designed and wittily illustrated by the great cartoonist Seth.
Purchase both books for the aspiring idlers and disgruntled wage slaves in your life!
Here are a couple reviews:
[Occupy Wall Street protesters] might want to pick up Joshua Glenn and Mark Kingwell's Wage Slave's Glossary, a nifty pocket-size volume … spotted on the [library] shelves in Zuccotti Park…. — New York Times Book Review column "Inside the List" by Jennifer Schuessler
Think of this tiny volume — ably buttressed by a nimbly delightful introduction from Mark Kingwell and the art of Seth — as an obverse companion [to The Idler's Glossary], a book dedicated to resistance to work and the corporate language that supports it. — Toronto Globe & Mail
ALSO
Mark Kingwell's Introduction to the Wage Slave's Glossary was chosen for a Best Canadian Essays of 2011 anthology.