Gary Panteriana
By: HILOBROW
December 16, 2011
Ninth in a series of posts suggesting gifts for the hilobrows in your life this holiday season.
HiLobrow was thrilled to add Gary Panter to our roster of contributors in 2011. He is one of our artistic heroes. Here are some things he made in 2011:

A skateboard! for Pharmacy. Plus socks and t-shirts! Available here.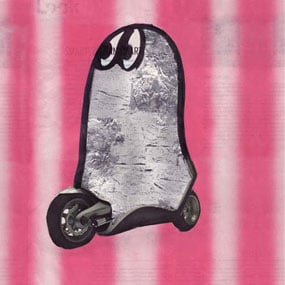 An album! Gary's band Devin Gary & Ross released Four Corners Bounce, on the Arbitrary Signs label. One reviewer says: "Devin Gary & Ross has hybridized some kind of skewered ambio-ack that combines slow braised Pink Floyd proto-psych with chicken-fried Hirsche nicht aufs Sofa snorts awash in bucket've saucy, piquant Morricone-esque atmosphere." OK, the EP came out in 2010. But it's awesome. Buy it here.
Lots more stuff by Gary at Picturebox and Fantagraphics.
Plus custom drawings, mini comics, books, prints, greeting cards, rubber novelties, music, apparel and housewares here.