Pluperfect PDA (11)
By: Joshua Glenn
November 11, 2011
Eleventh in an occasional series.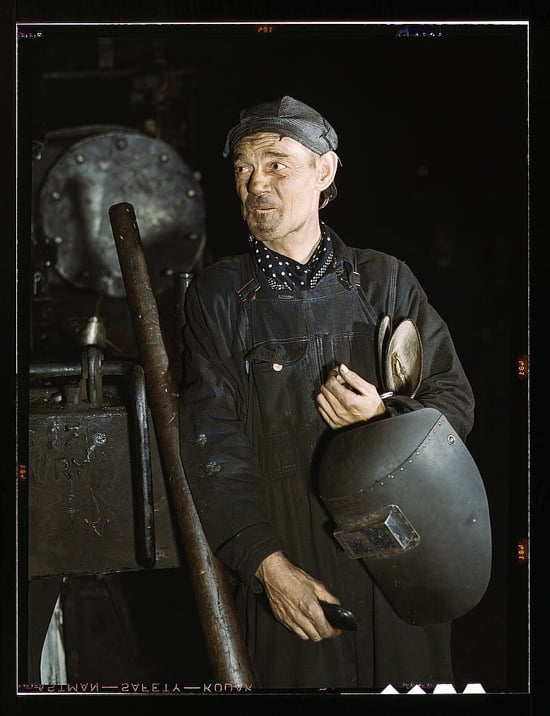 There's something funny about the expression on the welder's face, in this 1942 photo taken at the C & NW RR locomotive shops in Chicago, Ill. (It was found, by Matthew Battles, in the Library of Congress's wonderful "1930s-40s in Color" set.) What is making him so uncomfortable? What does he have to hide?
Aha!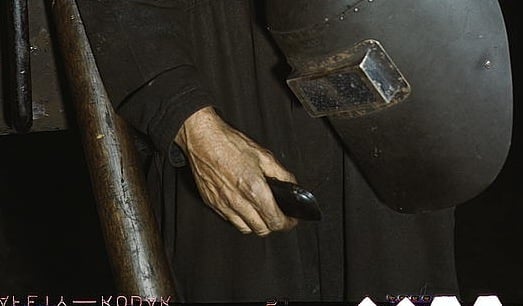 He's carrying a smartphone, that's why he's so camera-shy.
Ringtone: "Praise the Lord and Pass the Ammunition"
***
SIMILAR HILOBROW SERIES: DOUBLE EXPOSURE — the stratagems of Middlebrow | EGGHEAD — a gallery | FITTING SHOES — famous literary footwear | LATF HIPSTER | PANTENE MEME — a found gallery | SHOCKING BLOCKING — cinematic blocking