DC — The New 52 (3)
By: Joshua Glenn
October 9, 2011
On August 31st, DC Comics launched a "historic renumbering" of its entire line of comic books with 52 first issues. DC sent me all 52 first issues, and I handed them over to Max, a superhero comics fan of my acquaintance — who turned 11 on October 7th. Here is the third installment in a series of Max's reviews.
GREEN LANTERN
Green Lantern #1: It had a lot to do with Sinestro becoming the new Green Lantern. I felt bad that Hal Jordan got his Lantern privileges yanked. I like how Hal Jordan saw a girl getting beat up, jumped across a balcony and through a window, and then realized it was just a movie. That was funny. The graphics were definitely good. And there wasn't very much gore, which is good.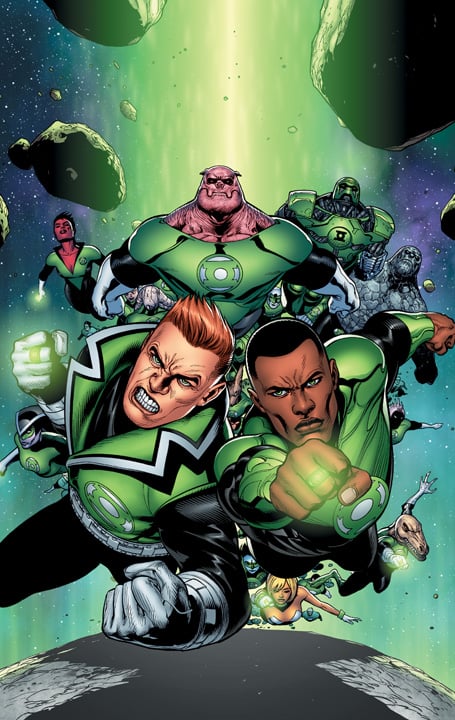 Green Lantern Corps #1: There was a little violence and gore at the beginning, but I've always been interested in the Green Lantern Corps, so I want to keep reading this series. There was a lot of information about the Corps in the beginning — all the different colors of lanterns.
Green Lantern: New Guardians #1: That was interesting because they found a new Green Lantern to recruit. All these rings fly to the Green Lantern, and all these other lantern rings fly to him — I didn't know what was happening, and I enjoyed the story.
Green Lantern: Red Lanterns #1: Too gory and gruesome. I don't like how blood is always flowing out of their mouths. They seem stupid, and they fight each other all the time. But the graphics were pretty good.
***
CHECK OUT Kirb Your Enthusiasm — 25 posts about Jack Kirby panels | Joe Alterio's Cablegate Comix | Original comics written by Adam McGovern | more HiLobrow posts about comics and cartoonists