Linda (13)
By: Karinne Keithley Syers
September 15, 2011
HILOBROW is proud to present the thirteenth installment of Karinne Keithley Syers's novella and song cycle Linda, a hollow-earth retirement adventure with illustrations by Rascal Jace Smith. New installments appear every Thursday.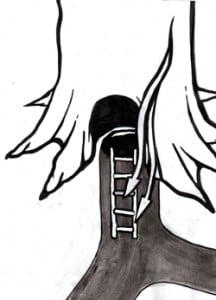 The story so far: Linda, our heroine, has been released from the story for a brief interlude to take a trip around America, or rather she has released herself, having called down a comet into a quasi-real place called the globe, which has caused a dust storm of catastrophic proportions. First I invited her line dancing in Salt Lake City. In the last installment she went to the Art Institute of Chicago to see the Joseph Cornell boxes. There are incidental suggestions that something is happening underground, but this is vacation time and that needn't concern you.
***
24.
When the dust first started to plume, it was inevitable that most people thought immediately it was an act of terrorism, just as when an earthquake recently hit New York that was the first cause most brains supplied, especially those not transplanted from the west. When the first plane hit the World Trade Center ten years ago, I grumbled half-asleep about how early the construction was starting on my street. We can only supply a cause by borrowed retrospect, and likewise speculation relies on old maps of sequence and relationship. When the scale of the dust plume was realized, they began to recollect the volcano in Iceland, and worried that their upcoming vacations would turn into enormous headaches, envisioned airports transformed into tent cities, saw the fights over the few seats neighbored by low magazine tables instead of armrests, the run on fresh sandwiches, and made mental notes to pack toothbrushes in the carry-on luggage. When the dust didn't stop, the talk turned from volcanoes to dinosaurs. Amidst all the technology, geological and cosmic time reasserted itself. With a chill people began to think of 21st century America as a mere pull-out box in an ancient civilizations text book, the extinction of X. They looked at cockroaches and dandelions with jealousy, remembering the statistical probability that of all species it was these that would survive catastrophe. Wasn't it a meteorite that hit the earth and its dust that made the darkness, and didn't the darkness cause the cooling, and the cooling the extinction? Great crowds went daily to the natural history museums to look at dinosaur bones and meteorites, and there was a resurgence of interest in anatomy, as people took comfort in imagining their bones in some museum of the future. We all would die individually of course, they said, but to die together we never imagined.
Energy-generating windmills were repositioned to face the ground like so many fans at the window of a hot apartment, blades pulling air up into the skies. Without the facing that caught the wind, the mills had to be operated manually, and people volunteered to run in circles in shifts, trying to run the dust up, but the dust was so fine and insidious it penetrated their masks and slowed their speeds and although they could clear the air momentarily, it sank and settled again, and the scheme was abandoned.
And the dust came and came, pluming endlessly and limitlessly out of the ground where the comet had entered the earth, as if it was not a rock but a living thing that had come from the skies and gone underground, a living thing without the capacity to tire, digging and spewing an inexhaustible earth without rest, as if the comet was not a comet but a ship populated by extraterrestrial moles come to dig out the earth and send its dust into space, fashioning in its place a dust planet to match the gas planet I drew obsessively as a kid. Before communication went out entirely, shortwave radio reports came in from other continents of spouts opened up. The burrowing traversed the globe, and although America went dusty first, the other continents followed. The effect was felt, after the adrenaline of the initial terror, mostly in the circadian systems, fed a constant dull light that made even the gloom of a Seattle winter seem radiant and energizing. There is a blue without grey that comes on cities at dusk in the functioning world, a blue without grey that actually removes something dulling from the hue of concrete, settles a tone on even the most industrial world of humming beauty. The dust was like an inversion of this crepuscular renewal, a grey without blue, a concrete hegemony particulated into a bad mist. It was inevitable that everyone would choose just to go to sleep.
Why is Linda so wakeful in all this dust? Because this is her reward, her awaited retirement. She has worked and raised children and retired. She has taken care of her parents as they died. She has entrusted to generations of students a basic grasp of Algebra. All her life she has taken the long view, and this is her awaited reward. And because, although she does not know it, her body is receiving the cues of wakefulness from an interior sun, a sun not even fully constructed, but waiting in possibility for her and for all of us, after this brief tour of the United States.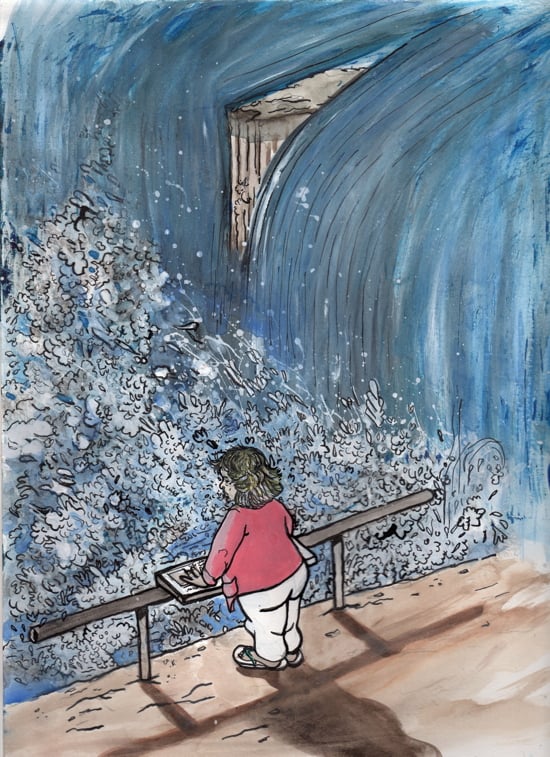 25.
When I met Linda in Al's Hostel in Knoxville, where she had returned to minister the forms of completion her father's death required, she was retired. Her parents were now both dead and her children were grown, and although her digestion made her frequently miserable she was otherwise in decent health, and didn't yet need their care. With no one in need of her and without need of anyone else, and her husband I imagine either dead or long divorced, she was in a free state. She thought it very impressive that I had come from New York City, and that I was attached to both a university and an art world in that city, which she imagined as glorious and replete with culture, a thing she longed for and envisioned as the reward of her patient and modest life. Nashville, where she lived and had worked, of course has a cultural plenitude of its own. It is even the provenance of the ukulele I write my songs for Linda on, a ukulele I spotted hanging in the window of a music shop downtown one night after my dear friend Ruthie, home to take a pause from New York City, took an old boyfriend and me to hear music, properly, and to which we returned in the morning. They had in that shop also a National Resonator ukulele, the brightest uke I've ever handled, marked $2250. In my ignorance of finer instruments beyond the orchestral, I thought it must be a mis-labeled; I could not see how anyone could spend two grand on a ukulele, although I since learned that there are such ukuleles are antiques and in the possession of several famous musicians and I'm sure many others, the ukulele being the democratic instrument par excellance, with which it is possible to attain a basic competence in less than an hour. When if ever I become an earner well beyond my own needs, I have promised myself a resonator, and I will return to Nashville to find it. Also in Nashville I went with Ruthie and her mother to a library of an old junior high, where the international folk dance club met to dance, and where I learned the circling stepping dances of Ukraine, performed with intense pleasure by a man in shorts and high boots, and I think it was just after leaving Nashville for Louisiana that the dog who is now the longest-present companion of my life found me, chose me, and got in the car. This version of the story may be contested, but at some point we must change the pronouns to match the lasting threads.
Several other things recommend Nashville for its cultural goodness: the cinnamon bun in the shape of Mother Theresa spotted one early morning in 1996 at Bongo Java, the full-sized replica of the Parthenon among them, not to mention the obvious musical icon of the Grand Old Opry. Nashville also is the scene of a movie starring Willie Nelson and Kris Kristofferson called Songwriter, whose soundtrack I found on a trip to Portland, Maine, where I used to visit a record shop of impeccable offerings every time I went to see my friends whom I am in fact this very day visiting in a different town. I bought the album because of the song "Help Me Make it Through the Night," which isn't on the album but is another product of the congruence of Willie Nelson and Kris Kristofferson, a song that I in fact play on the uke and which once brought a listener to tears, a listener in possession of as much earnestness and skeletal willingness to hear the thing in the heart of the song as I have found through the devotional practice of covering songs. The best song on the soundtrack is on the Kris Kristofferson side – they are both supposed to be big figures, and they each get their own side. On Blackie's side (that's Kris Kristofferson) is the title song, which is in fact breezed through in the movie in an early montage of the touring life, and given none of the pride of place it deserves. The song is about the wrecking quality of a musician in the world of human relationships, and I like it very much.
For all these reasons, when Linda asked me about coming to New York City to take senior classes and receive senior discounts, I discouraged her, because really at the time I found New York City also to possess a wrecking quality, both in human relationships and in human resilience. It sounded to me like she wanted to up and move there to experience a life I knew to be mostly imaginary, and I wanted to shield her from the difficulty, expense, and above all the disappointment of being an incoming New Yorker, especially as she wouldn't know anyway, except, I suppose, me (but I had not yet attached myself to her through this long imagining, and had no obligations). I regret this now, of course. Now that I have left the city myself, and live far from what I might call a cultural plenitude, I see what attraction and wonder it might have held for her, and wish I had withheld the skepticism from my voice and had affirmed the joy of the plan.
So I have kept the city of New York awake for Linda, and it does anyway make sense that of all places it would be the last to acquiesce to the transcontinental nap. The city that never sleeps is certainly not the city that naps, so Linda, everyone is awake. This is New York in its fullness. I cannot return with you, but I have left an itinerary. Take it as a suggestion.
Start in the reading room of the New York Public Library on 42nd street, be sure to see the lions in front on your way in; Central Park, of course, for your photo album; the promenade in Brooklyn Heights, and while you're at it, wander from Brooklyn Heights through Boerum Hill to Carroll Gardens for proper salami and fresh mozzarella before the Italians wake up to find only young professionals in their place (try to take the walk on trash night – New York recycles without shame – take anything you want); take a bike and ride to Windsor Terrace, almost to Kensington, to Green Wood Cemetery (listen for the whispers between the houses of the dead; ask yourself "who and what is P"; don't question it); at the lower gate pause to take a photo with the statue of the civil war soldier, and don't clean the cobwebs off, they look beautiful in the light); wander back to the park through the neighborhood populated by lady cops; cross over the expressway and enter the park (it may bear a resemblance to places I have already taken you), look for Lawrence walking a pack of dogs and give him my love; walk down the hill to my favorite pizzeria for Foccacia di Nona, by request of my friends, formerly of Portland, and before that of Brooklyn, who have just melted at the recollection; cross any bridge, but do it on foot; in the east village please get borscht at B&H and enjoy the challah; then find St. Mark's Church; go through the large front doors to see the dancers, then around the back to the poets, and upstairs to the theater (it's been renamed but you can still see the old words embossed and protruding under the black paint); if no one's there, try singing; you should then go uptown to the Metropolitan opera, and see the singing there; see if you can get someone to take you on a tour of the basement studios, you'll see they use greasepaint as if it was 1963; find a subway tunnel and a person you like the look of for company and a flashlight, and walk downtown through the tunnels looking for tags; when you get to the world trade center, which of course is not there but the station is, take the path train to the first stop in New Jersey; by the water is a statue of a soldier being bayonetted through the back, or maybe struck by a lighting bolt, to memorialize the Katyn massacre, and then walk over the light rail, down the street three blocks or so, to the offices of WFMU, the jewel of freeform radio, upstairs from a real estate office, or at least they were there the last time I was; go on upstairs and spend some time licking envelopes as a volunteer; you'll think everyone is crazy but I think you'll like them; from there, don't look back but keep walking into New Jersey; if someone has left their car running in front of a Dunkin' Donuts, go ahead and take the car (they're going to nap soon anyway, they don't need to drive, people are only awake for your benefit because this is your reward); drive north, across the Tappan Zee Bridge, and up past Albany and then follow the New York State Throughway to Buffalo; stop wherever you want but get to Buffalo; from here, Niagara Falls, where my mother and father just happened to be vacationing; my mother suggests you go to the Cave of the Winds for the Maid of Mist boat ride, where she says you will see an amazing cascade of water, that you will be truly amazed, and from where you can see parts of several falls, more than just Niagara, think of Niagara as a place-holder for a multiplicity of falls; finally, she suggests you take a boat ride, she can't remember upstream or downstream but you can figure this out, to a place where the river curves and creates a horseshoe-shaped whirlpool that doubles back on itself, somehow created by the electrical plant fueled by the water; she says it changes direction at night, and changes back by day, and that you can take a boat to the center of the whirlpool; finally, find your way to Goat Island and listen for the ghost of William McKinley who visited it shortly before Leon Czolgosz shot him in the greeting line in the Temple of Music at the Pan-American Exposition and caused his death, a week later, I think by septicemia. There is so much more in the state of New York, but this should satisfy. I would have sent you to the Catskills, but the roads have been destroyed.
***
And now, listen to the next song in the Linda song cycle, the long view (thanks ss):
Longview
NEXT WEEK: Linda in the great midwest.Stay tuned!
***
Karinne and HiLobrow thank this project's Kickstarter backers.
READ our previous serialized novel, James Parker's The Ballad of Cocky The Fox.
READ MORE original fiction published by HiLobrow.