Linda (11)
By: Karinne Keithley Syers
August 25, 2011
HILOBROW is proud to present the eleventh installment of Karinne Keithley Syers's novella and song cycle Linda, a hollow-earth retirement adventure with illustrations by Rascal Jace Smith. New installments appear every Thursday.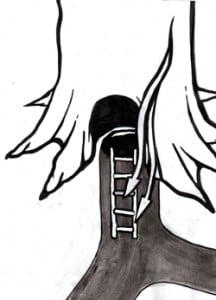 The story so far: Linda, a retired math teacher from Tennessee, has been wandering in a place called the globe, sent on interpretive missions to underground lakes full of dancing squid, and gone comet-calling. At the end of part two she called a comet to plunge into the earth, creating a kind of dust-spewing twilight machine. Promised her retirement adventure, she is now setting off to see the country and redeem her well-deserved senior discounts.
***
– Interpart, a prelude to part 3 –
If I could wait for Linda, I would wait for her in Salt Lake City. Escaping the trivial charisma of the glowing screen I waste my days and eyes in facing, I would have gotten in a car and with steady, uninterrupted mind, have driven over dry hills and away from fault lines and into the desert and up into the lunar fields of Utah, most astonishing of these states, and arrived at the Westerner on South Redwood Road, somewhat south of the actual city of Salt Lake. No one would be working because the continent would be covered in dust, and there would be little evidence of who or what was surviving or where any activity would be when so many people affected by the darkening of the dust had simply gone for a nap become hibernation. When I got out of the car, there would be the sound not of the city but of cicadas, because I imagine that something so numerous and so dedicated to a continual sounding could adapt to dust, for anyway they do not mind the dark. In the bouncer's absence I would scan my own drivers license and pour my own beer and walk past the empty karaoke room and rows of tables to the long, smooth dance floor, a floor that could hold hundreds of people line dancing, stepping and turning in unison in all the pleasures of walking or facing or watermelon crawling in the same direction, turning the same corner at the same time, sidling butts to the right and left in a great cooperative understatement that doesn't even require that you use your arms, if your masculinity requires such containment, running unevenly over the steady fours of the music with sequences built of sections of six. But there would be no dancers present, so I would walk to the back and find the sound board and play a song for Linda, not the kind of song I make for her, but the kind of song she might like to dance to, like Just Another Day In Paradise or She Won't Be Lonely Long or Bubba Shot the Jukebox, and I would go to the dance floor wishing I had bought boots on any of the trips to Texas I've made in my life.
On the dance floor I would make twelve dances for Linda. In these dances, there would be nothing of the strange, delicate, or specific action that unnecessarily creates a panic of non-understanding in the viewer, otherwise so comfortable in the world of matter, of the strange, delicate and specific dances I have spent so many hours composing. These dances instead would look just like any other line dance, would appeal to a common experience, seeking out the sweet spot between doable and pleasurably tricky, would reward a few repetitions with a sense of acquisition. Each of these dances I would chart, and name, and learn how to call out, and when Linda arrived I would be so gently, carefully concealed behind the dimming light and she would be so glad to find the music playing and the bottle of tequila I had left for her, that I think she would just start dancing, not minding the probability of my being there, and as she danced I would call to her grapevine left, and pivot and turn, and walk it out, and touch to the right, and spin to the left and scoot, and scoot again, and cowboy chicken turn it in turn it out, and let your hips do that talking, there you go. And once she had the feet, and was spinning and scooting and walking with confidence, I would say, imagine you are surrounded by a full field of Lindas, and let your arms float as if they were floating in water, like you were a translucent squid above those Nashville legs of yours, like you were free of anything that ever made you think you were a bad dancer, and Linda would say, I never thought I was a bad dancer. I have never thought such a thing.
I would do this because I would like to start Linda's retirement adventure with a dance party. When she has danced for a while, we will be ready to begin.
***
NEXT WEEK: Linda goes to Chicago to see Joseph Cornell. Stay tuned!
***
Karinne and HiLobrow thank this project's Kickstarter backers.
READ our previous serialized novel, James Parker's The Ballad of Cocky The Fox.
READ MORE original fiction published by HiLobrow.