Pluperfect PDA (7)
By: Joshua Glenn
July 16, 2011
The Library of Congress's endlessly rewarding "1930s-40s in Color" photoset includes this August 1942 shot by photographer Howard R. Hollem.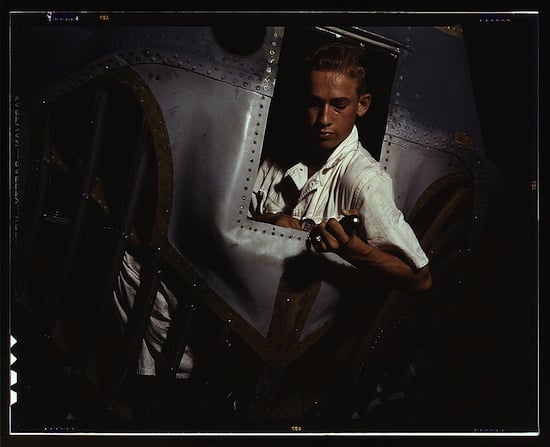 "Working inside the nose of a PBY, Elmer J. Pace is learning the construction of Navy planes, Corpus Christi, Texas," we read. "As an NYA trainee at the Naval Air Base, he gets practical experience. After about eight weeks, he will go into civil service as a sheet metal worker."
Sounds reasonable enough… but what is that shiny, palm-sized object at which Elmer is looking so intently? Why is he using his thumb in that particular way?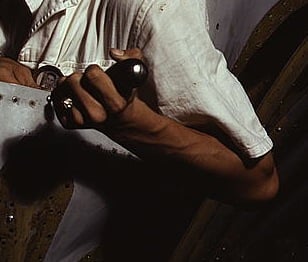 Yep. It's yet another PLUPERFECT PDA. OK, this one is rounder than the ones with which we're familiar — perhaps it's from our future? I want one.
Ringtone: "(I've Got a Gal In) Kalamazoo"
***
Click here to see previous finds.
SIMILAR HILOBROW SERIES: DOUBLE EXPOSURE — the stratagems of Middlebrow | EGGHEAD — a gallery | FITTING SHOES — famous literary footwear | LATF HIPSTER | PANTENE MEME — a found gallery | SHOCKING BLOCKING — cinematic blocking