Support LINDA!
By: HILOBROW
May 16, 2011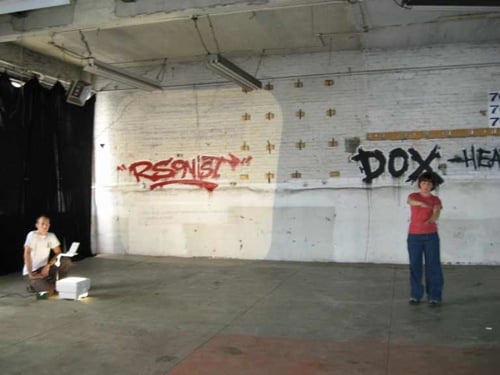 REMINDER: From June through November, here at HILOBROW, we will publish the novella Linda: A Hollow Earth Retirement Adventure in 23 Singing, Illustrated Installments, by the talented playwright, performer, choreographer, sound and video designer, and animator Karinne Keithley Syers.
Karinne is raising money to fund this multimedia project via Kickstarter. As of this posting, the project is 47% funded. But it's all or nothing — now is a good time to make a contribution!
SPREAD THE WORD! Send folks to: http://kck.st/l4p674
Each installment of Linda will feature two chapters of the novella, an original illustration by Rascal Jace Smith, AND an original song composed by Karinne.
Karinne is raising funds via Kickstarter in order to commission illustrations; buy printing equipment and materials (so she can create a handmade limited edition of LINDA for subscribers); burn CDsof the songs; replace some of her old sound equipment; and make gifts for backers.
Please back this project via Kickstarter so Karinne and HILOBROW can make Linda happen.
Gifts available to Kickstarter backers include everything from a bookmark and embroidered hollow-earth patch to: a limited-edition copy of Linda (with art by Rascal Jace Smith and a line-dance instruction appendix), a CD of the song cycle, a party pack complete with instructional video, a custom ukulele cover (by Karinne) of the song of your choice, an 8×10 print of one of Rascal's illustrations, and a hand-embroidered Spinoza flag.
ACT NOW! The fundraising campaign runs until May 31.
PS: The Atlantic Monthly praised HILOBROW's previous serialized novel project to the skies:
The very last chapter of Cocky the Fox came out today, which is actually a terrible thing, as far as I'm concerned. I had come to look forward to [James Parker's novel and Patrick Cates' newsletter] with an emotion that I think I can properly call delight. For months, at some point on every Thursday, it would occur to me that there was a new addition out and I'd thrill to the idea that I'd get to read it when I got home from work.

For me, it was a proof-of-concept that serialization can work on the Internet. I don't know how well the book did in a quantitative sense, but it became part of my life for half a year, and Cates' companion text really made it feel like a bunch of friends making stuff for each other. It was like we were all in the same parlor: Very Victorian, but unbound.

It's also worth noting that the entire enterprise began with a Kickstarter campaign to help HiLobrow fund Parker's adventure and it'll end with an actual printed book with Kristen Parker's illustrations.