Linda Linda Linda
By: HILOBROW
May 4, 2011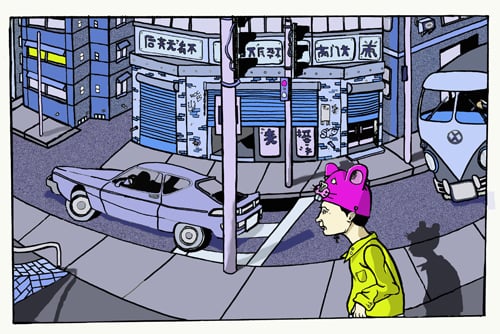 From June through November, here at HILOBROW, we will publish the novella Linda: A Hollow Earth Retirement Adventure in 23 Singing, Illustrated Installments, by our friend Karinne Keithley Syers, a talented playwright, performer, choreographer, sound and video designer, and animator.
We're very excited about working with Karinne — and the timing is fortuitous. Today our previous serialized novella, James Parker's The Ballad of Cocky the Fox, comes off the presses and gets shipped to those Kickstarter backers who ordered one! We're a well-oiled publishing machine…
Each installment of Linda will feature two chapters of the novella, an original illustration by Rascal Jace Smith [example of his work above], AND an original song by Karinne. Check out the video below to hear her perform.
Karinne has been making shows, videos, and music out of her pocket since 1995. Linda is her first attempt to make something without losing money. So she's raising funds via Kickstarter in order to commission Rascal for 23 original illustrations; buy printing equipment and materials (so she can create a handmade limited edition of LINDA for subscribers); print CDs with the finished song cycle; replace some of Karinne's old sound equipment; and make gifts for backers.
Please back this project via Kickstarter so Karinne and HILOBROW can make Linda happen. And spread the word! Send folks to: http://kck.st/l4p674
Gifts available to Kickstarter backers include everything from a bookmark and embroidered hollow-earth patch to a limited-edition copy of Linda (with art by Rascal and a line-dance instruction appendix), a CD of the song cycle, a party pack complete with instructional video, a custom ukulele cover (by Karinne) of the song of your choice, an 8×10 print of one of rascal's illustrations, and a hand-embroidered Spinoza flag. Nice! Act now!
See Karinne's Kickstarter video below. The fundraising campaign runs until May 31, and the series begins the following week.