Best Translated Books of 2010
By: Joshua Glenn
May 3, 2011
Our friend Chad Post of Three Percent, a resource for international literature at the University of Rochester, and organizer of the Best Translated Book Awards (the only prize of its kind to honor the best original works of international literature and poetry published in the US over the previous year), tells us that the winning titles and translators for this year's BTBA were announced on April 29, as part of the PEN World Voices Festival in New York.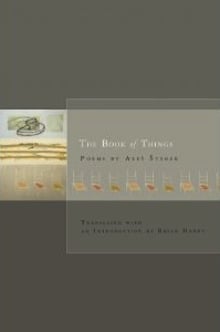 In poetry, Aleš Šteger's The Book of Things (BOA Editions), translated from the Slovenian by Brian Henry, took the top honor.
In fiction, the award went to Thomas Teal's translation from the Swedish of [HiLo Hero] Tove Jansson's The True Deceiver (New York Review Books).
The fiction judges for this year's awards were: Monica Carter (Salonica), Scott Esposito (Conversational Reading and Center for the Art of Translation), Susan Harris (Words Without Borders), Annie Janusch (Translation Review), Matthew Jakubowski (writer and critic), Brandon Kennedy (bookseller/cataloger), Bill Marx (PRI's The World: World Books and The Arts Fuse), Michael Orthofer (Complete Review), and Jeff Waxman (Seminary Co-op and The Front Table).
The poetry judges were Brandon Holmquest (poet, translator, editor Asymptote Journal), Jennifer Kronovet (poet, translator), Erica Mena (poet, translator, host of the Reading the World Podcast), Idra Novey (poet, translator, Executive Director of Literary Translation at Columbia), and Kevin Prufer (poet, academic, essayist).