Hello Goodbye
By: Joshua Glenn
March 16, 2011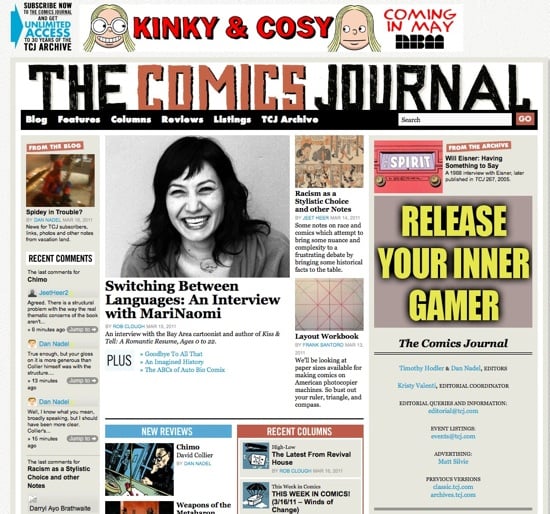 Our friends at Fantagraphics announced last week that TCJ.com, the website of The Comics Journal, has been relaunched under the editorial oversight of a new team, Dan Nadel and Tim Hodler.
Nadel (who contributed to HILOBROW's KIRB YOUR ENTHUSIASM series) is the owner of the visual culture publishing house PictureBox, and is the author of Art Out of Time: Unknown Comic Visionaries 1900–1969 and Gary Panter; he and Hodler co-founded the Eisner-nominated magazine and blog Comics Comics with cartoonist Frank Santoro.
The new TCJ.com will offer an online magazine for interviews, criticism, history and ideas, a monthly diary feature by a cartoonist, multiple weekly book reviews, and highlights from back issues of The Comics Journal (complete issues for subscribers). We're thrilled by this development!

We're not so thrilled by the news, announced yesterday, that the LitSense ad network, banner ads from which you've seen at the top of our pages since November, is shutting down. "A variety of factors have led to this decision," wrote LitSense's Anne Walls in an email, "notably the desires of our principals, as well as the status of the publishing industry in general right now."
Too bad! Along with The Culture Pundits and The Deck, LitSense was a ray of hope for intellectual-literary websites, like ours, which actually pay contributors. Or maybe we're the only website that pays contributors? Anyway, farewell LitSense.