Idler Academy
By: HILOBROW
January 25, 2011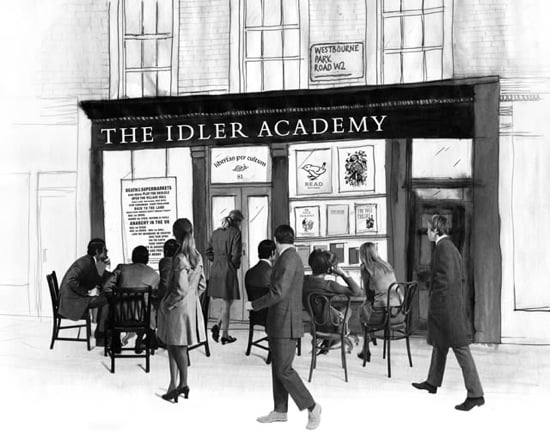 In a few weeks, our friends at The Idler will open a bookstore and coffeehouse in the 18th century style, with lots of talks and events. It's in Westminster, London — at 81 Westbourne Park Rd. Their mission statement:
In Ancient Greece, the word for school, σχολή, also meant 'leisure.' Education was a pleasure; it was a privilege freely chosen by the freeborn citizens of Athens. The Idler Academy wants to bring this spirit of cultivated leisure to the 21st century, and cross it with the lively atmosphere of an 18th century coffeehouse. We will sell a wide range of new and secondhand books, largely educational in nature. We will serve excellent coffee and hot chocolate. We will sell games, curios and Idler clothes. We will provide delicious cakes. We will teach courses in academic and practical subjects, from Latin to embroidery, from book-keeping to ukulele, from life-drawing to herb growing. This is a place to read, think, debate and learn, to sharpen your mind and learn creative skills. Above all, we seek liberty, and our Latin motto, libertas per cultum, means 'freedom through education.'
The Academy's first "Weekender" (a "liberating weekend course") is called "How to Escape the Nine to Five," and is for anyone who is heartily fed up with their job and would like to explore the alternatives. It takes place on Saturday 30 April and Sunday 1 May, and it will be run by Idler editor Tom Hodgkinson and Permaculture teacher Graham Burnett. Over the two days, instructors and students will discuss how to remove the "mind forg'd manacles," use Permaculture techniques to free yourself from drudgery and embrace "right livelihood."
***
READ MORE about idleness, here at HILOBROW.