Hilobrow Comics
By: Joshua Glenn
September 11, 2009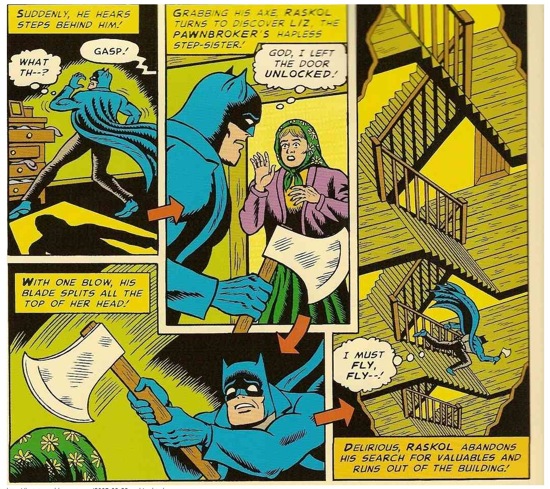 R. Sikoryak is a versatile, witty, and well-read cartoonist and illustrator who's retold Dante's Inferno in the style of Bazooka Joe bubblegum comics, Crime and Punishment in a Bob Kane-era Batman mode (above), and The Metamorphosis as though it were written and drawn by Charles Schulz. The guy is a genius: he hasn't merely adapted, parodied, or recontextualized these novels and comics, he's rebooted them. Rob Clough's comics blog, High-Low, says, of Sikoryak's masterpiece comics: "It's a stunning collision of so-called 'high' and 'low' art, done with an affectionate nod and wink to both." HiLobrow productions like this are far more rare — since Middlebrow's triumph, last century — than you might imagine.

Although Sikoryak has illustrated covers for The New Yorker, among other high-profile gigs, unless you've spent the past two decades following low-circulation comix journals like Raw and Snake Eyes, you've missed out. (In 2000-01, Sikoryak also contributed to the journal that I published, Hermenaut; his convincing illustrations of A.S. Hamrah's "Beckett-Bushmiller Letters" helped turn that imaginative exercise into an unintentional hoax that won't quit.) Not to worry: earlier this month, Drawn & Quarterly published Masterpiece Comics, a 64-page, hardcover collection of Sikoryak's brilliant pastiches.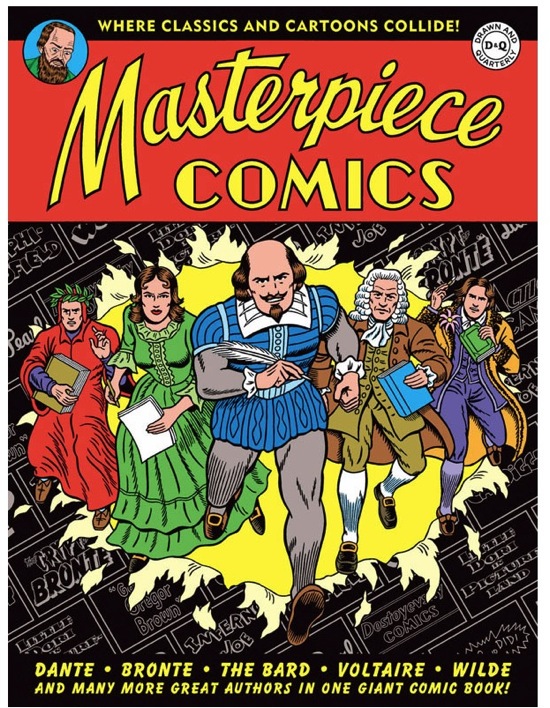 Check out this slideshow of excerpts from the book; and buy it! Sikoryak is doing two signings this weekend, in Brooklyn: at the comic shop Rocketship on Saturday, and at the Brooklyn Brook Festival on Sunday. Follow his Twitter feed for updates.