Holden's History of the United States
By: HILOBROW
January 29, 2010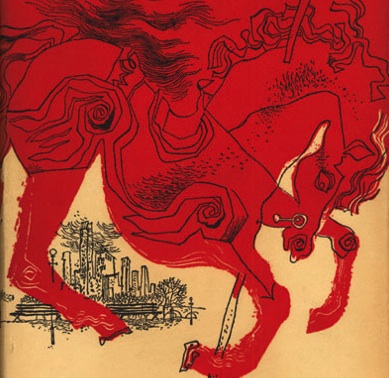 If you really want to hear about it, the first thing you'll probably want to know is how the Arawak men and women, naked, tawny, and full of wonder, emerged from their villages onto the island's beaches and swam out to get a closer look and that kind of crap, but I don't feel like going into it, if you want to know the truth.
The Indians, Columbus reported, "are so naive and so free with their possessions that no one who has not witnessed them would believe it. When you ask for something they have, they never say no. To the contrary, they offer to share with anyone…." He concluded his report by asking for a little help from their Majesties, and in return he would bring them from his next voyage "as much gold as they need … and as many slaves as they ask." He was full of religious talk: He started telling us how he was never ashamed, when he was in some kind of trouble or something, to get right down on his knees and pray to God. He told us we should always pray to God — talk to Him and all — whenever we were. He told us we ought to think of Jesus as our buddy and all. He said he talked to Jesus all the time. Even when he was driving in his car. That killed me. I can just see the big phony bastard shifting into first gear and asking Jesus to send him a few more stiffs.
***
Around 1776, certain important people in the English colonies made a discovery that would prove enormously useful for the next two hundred years. They found that by creating a nation, a symbol, a legal unity called the United States, they could take over land, profits, and political power from favorites of the British Empire. In the process, they could hold back a number of potential rebellions and create a consensus of popular support for the rule of a new, privileged leadership. Boston seems to have been full of class anger in those days. In 1763, in the Boston Gazette, someone wrote that "a few persons in power" were "too new and bourgeois." That was his favorite goddam word. He read it somewhere or heard it somewhere, Everything I had was bourgeois as hell. Even my fountain pen was bourgeois. He borrowed it off me all the time, but it was bourgeois anyway.
Tom Paine's Common Sense, which appeared in early 1776 and became the most popular pamphlet in the American colonies, made the first bold argument for independence, in words that any fairly literate person could understand: "I'm sort of an atheist. I like Jesus and all, but I don't care too much for most of the other stuff in the Bible. Take the Disciples, for instance. They annoyed the hell out of me, if you want to know the truth. They were all right after Jesus was dead and all, but while He was alive, they were about as much use to Him as a hole in the head. All they did was keep letting Him down. I like almost anybody in the Bible better than the Disciples. If you want to know the truth, the guy I like best in the Bible, next to Jesus, was that lunatic and all, that lived in the tombs and kept cutting himself with stones. I like him ten times as much as the Disciples, that poor bastard."
Similarly, in Boston, the rich James Otis could appeal to the Boston middle class by attacking the Tory Thomas Hutchinson. James Henretta has shown that while it was the rich who ruled Boston, there were political jobs available for the moderately well-off, as "cullers of staves," "measurer of Coal Baskets," "Fence Viewer." Aubrey Land found in Maryland a class of small planters who were not "the beneficiary" of the planting society as the rich were, but who had the distinction of being called planters, and who were guys carrying crucifixes and stuff all over the place, and the whole bunch of them — thousands of them — singing "Come All Ye Faithful" like mad. Big deal. It's supposed to be religious as hell, I know, and very pretty and all, but I can't see anything religious or pretty, for God's sake, about a bunch of actors carrying crucifixes all over the stage. When they all finished and started going out the boxes again, you could tell they could hardly wait to get a cigarette of something.
***
On August 6, 1945, came the lone American plane in the sky over Hiroshima, dropping the first atomic bomb, leaving perhaps 100,000 Japanese dead, and tens of thousands more slowly dying from radiation poisoning. Twelve U.S. navy fliers in the Hiroshima city jail were killed in the bombing, a fact that the U.S. government has never officially acknowledged, according to historian Martin Sherwin (A World Destroyed). Three days later, a second atomic bomb was dropped on the city of Nagasaki, with perhaps 50,000 killed. But anyway, I'm sort of glad they've got the atomic bomb invented. If there's ever another war, I'm going to sit right the hell on top of it. I'll volunteer for it, I swear to God I will.
***
With the loss of faith in big powers — business, government, religion — there arose a stronger belief in self, whether individual or collective. The experts in all fields were now looked at skeptically: the belief grew that people could figure out for themselves what to eat, how to live their lives, how to be healthy. Among other things, you'll find that you're not the first person who was ever confused and frightened and even sickened by human behavior. You're by no means alone on that score, you'll be excited and stimulated to know. Many, many men have been just as troubled morally and spiritually as you are right now. Happily, some of them kept records of their troubles. You'll learn from them — if you want to. Just as someday, if you have something to offer, someone will learn something from you. It's a beautiful reciprocal arrangement. And it isn't education. It's history. It's poetry.
R.I.P. J. D. Salinger (1919–2010) & Howard Zinn (1922–2010)