Best 1942 Adventures (2)
By: Joshua Glenn
January 6, 2017
One in a series of 10 posts identifying Josh Glenn's favorite 1942 adventure novels. Happy 75th anniversary!
*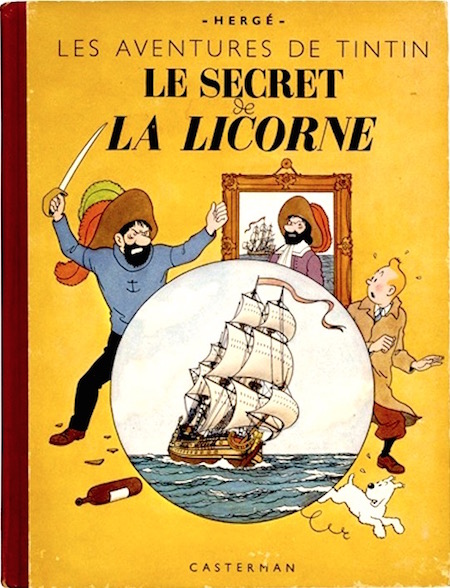 Hergé's Tintin adventure Le Secret de La Licorne (The Secret of the Unicorn, serialized 1942; as a color album, 1943).
While browsing a market in Brussels, Tintin purchases an antique model ship for Captain Haddock. Haddock is delighted with the gift; it's a model of the Unicorn, a 17th century ship commanded by his ancestor, Sir Francis Haddock. The ship is stolen, but Tintin discovers a miniature scroll which had been hidden inside its mainmast: "Three brothers joyned," it says. "Three Unicorns in company sailing in the noonday sunne will speak. For 'tis from the light that light will dawn, and then shines forth the Eagle's cross." Haddock tells Tintin the story of Sir Francis's battle with the pirate Red Rackham; could the scroll be a clue to the whereabouts of Red Rackham's lost treasure? That's what the Bird brothers, unscrupulous antique dealers who own another model of the Unicorn, believe; so they kidnap Tintin! I was obsessed with this Tintin adventure, as a child.
Fun fact: Jules Verne's 1867 story, The Children of Captain Grant, in which three hidden scrolls contain clues to a treasure, was an inspiration. In 2011, Steven Spielberg directed a motion capture feature film based partly on The Secret of the Unicorn.
***
Let me know if I've missed any 1942 adventures that you particularly admire.