Ben Katchor
By: Adam McGovern
November 19, 2011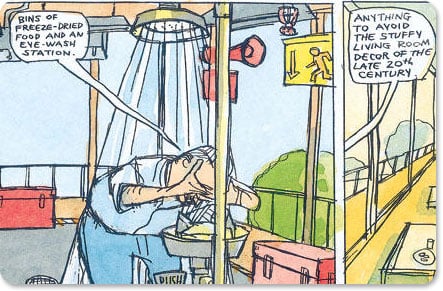 With his defiantly handmade technique, the cartoons of BEN KATCHOR (born 1951) are no less a devotion than the illuminated manuscripts of equally high labor and idiosyncratic vision. On the early-science end of Medieval media, scribes were obsessed with recording reality in all its particulars; at this point reality has pretty much run its course so what's left is to catalogue the cacophony of public expression. Katchor sees it all from on high, placing his characters in dense forests of remixed messages — illuminatingly nonsensical signboards, place names, whole philosophies — and setting them loose on fruitless, hilarious and melancholy quests to read the tealeaves of sensory overload. No one has much time to concentrate, but with delicate roughness and barbed whimsy, Katchor is the poet of what you think you might have heard. Endlessly eccentric and essentially humane, his absurd funhouse mirror-writing on everyday anxieties takes in the flaws that distinguish and bind us, and that's the only connection you really need to make.
***
On his or her birthday, HiLobrow irregularly pays tribute to one of our high-, low-, no-, or hilobrow heroes. Also born this date: Zygmunt Bauman.
READ MORE about members of the Blank Generation (1944-53).