Darren McGavin
By: Adam McGovern
May 7, 2011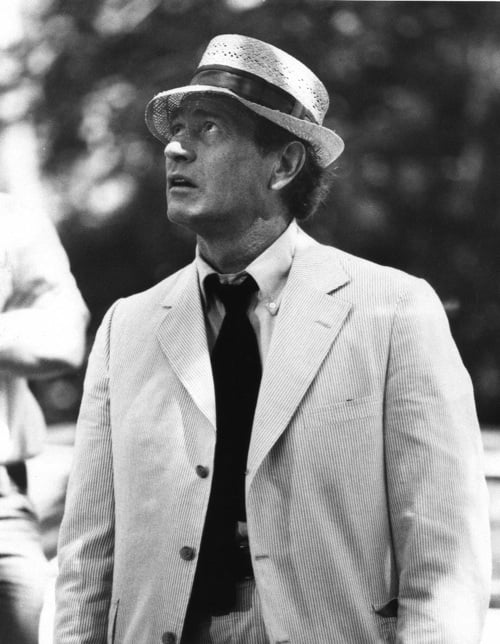 I don't remember the exact line — you never get myth the same way twice — but it went something like paranoid exposé reporter Carl Kolchak's perpetually sorrowful boss Tony Vincenzo overhearing his office nemesis in an adjoining bar-booth and ruefully asking the man pouring the drinks if, around the corner, there was "A guy in a straw hat and mismatched sportjacket? Looks like he's from a road company of The Front Page?" That image of defiant unsuitability and anachronism as fashion statement was the emblem of DARREN McGAVIN (1922—2006), my main model for rumpled, bemused masculinity in the gender-cautious 1970s. He would become best-remembered for that role, the muckraking investigative journalist on The Night Stalker revealing a different covered-up vampire or demon attack each week in the era when Watergate made us ready to believe (or disbelieve) anything. There was James Garner's genial loserishness, but Jim Rockford could actually help push a car or win a fight; for dweebs like me the smartass white-collar Greek Chorus of Kolchak was the target we could aim for and actually hit. He had played Mike Hammer and sailed on riverboats in sit-drams a bit too early for me to be alive to see, but even in the more masculine roles I caught — like the original Oscar Goldman on Six Million Dollar Man and the fathers in A Christmas Story and Murphy Brown — he balanced Rat Pack bonhomie with a sarcasm and/or regret that made you know he knew that authority was a crock, even when he was unlucky enough to be the one holding it. Darren McGavin was a creation — a lot about his hard-knock life story doesn't add up, including official names and birthplaces — but it was his story. It may all be made up, but if it's yours, you can make something out of it.
***
On his or her birthday, HiLobrow irregularly pays tribute to one of our high-, low-, no-, or hilobrow heroes. Also born this date: Gypsy Rose Lee.
READ MORE about members of the New Gods generation (1914-23).