Marvin Gaye
By: Adam McGovern
April 2, 2011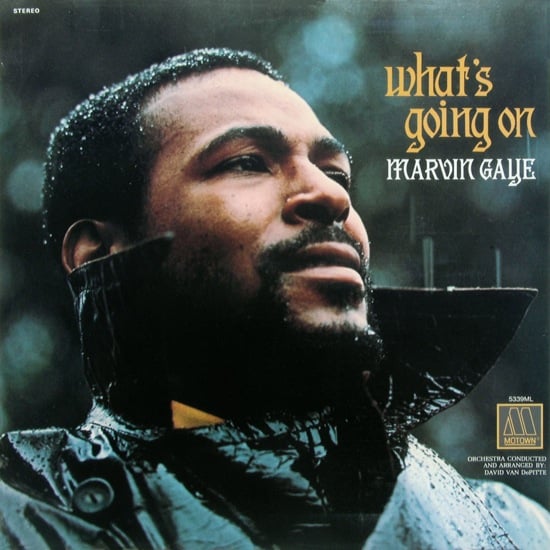 Standing behind the orchestrations of MARVIN GAYE's (1939-84) music is one of the 20th century's great conductors of contradiction. Electric and organic, concept and instinct, proficiency and abandon, male and female and cultures without chasms — it's all there in the several lifespans of the Satie of Soul. Gaye's course from aspiring crooner to R&B superstar to political prophet and experimental soundscaper was a path of transformation that prefigured the metafashion of Bowie and Costello; the compositional loops of the What's Going On album's percussive structures stood on the peaks of Africa and saw clear to the hip-hop century. In his own century you could usually have "black" music or "white" music; studio artisanry like Here, My Dear's stunning sonic constructions or spontaneous improv and energy; conceptual "message" or catchy groove — but Marvin saw no barricades from the heights he was on. Duality was what let this towering composer/performer have a parallel legend as a duet partner; as singular as his talent was, it was essentially directed outward in ways that his successor Prince's cloistered creativity just isn't. Also shared with Prince is a sacred-and-profane obsession; rock & roll is erotic gospel and songs like Marvin's "Funk Me" are pagan hymns of the divine flesh — "Mother Nature taught me love." Drifting into the dreamworld his music invokes and feeling the melancholy gulf of decades missed in his violent, early death, it's easy to imagine him as some itinerant angel who was finally poisoned by the Earth. Hero worship's never to be believed, but what can be counted on are the treasures he left behind from the better demons of his nature.
***
On his or her birthday, HiLobrow irregularly pays tribute to one of our high-, low-, no-, or hilobrow heroes. Also born this date: Serge Gainsbourg and Maria Sibylla Merian.
READ MORE about members of the Anti-Anti-Utopian generation (1934-43).