Significant Objects at MoMA
By: HILOBROW
August 20, 2011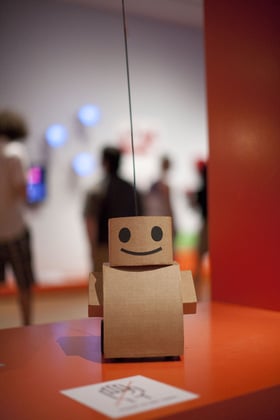 On Wednesday, November 2, Rob Walker will "orchestrate an evening of responses to objects" in the Museum of Modern Art's exhibition Talk to Me: Design and the Communication between People and Objects.
As HiLobrow readers know, Rob Walker and HILOBROW's Joshua Glenn co-organized the Significant Objects project; the Significant Objects book will be published by Fantagraphics in the summer of 2012.
Talk to Me looks like a great exhibition. Poets, writers, artists and cultural critics tell stories about, create instructions for, offer reviews of, and engage in conversations with select objects. Participants include HiLobrow friends Ben Greenman, author and editor, The New Yorker; and Cintra Wilson, culture critic.
IMAGE: Kacie Kinzer. Interactive Telecommunications Program, Tisch School of the Arts, New York University. Tweenbot. 2009. Cardboard, paper, ink, batteries, motor, and wheels. 36 x 8 1/2 x 14″ (91.4 x 21.6 x 35.6 cm). Installation view at The Museum of Modern Art, 2011. Photo © Scott Rudd